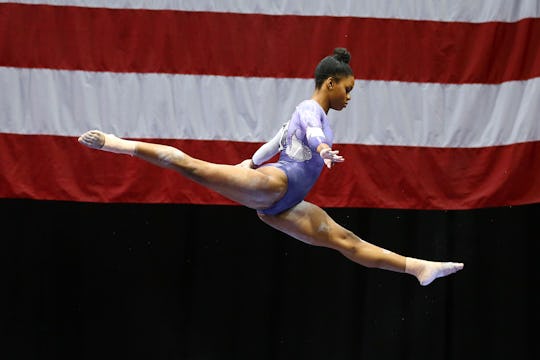 Dilip Vishwanat/Getty Images Sport/Getty Images
What Do The Olympic Gymnasts Eat? Their Secret Ingredient Is Ketchup
When a nation's bragging rights are being carried on your shoulders, everything you put into your body matters. Heading to the Rio Summer Olympic games, the ladies of the U.S. gymnastics team, Aly Raisman and Gabby Douglas, opened up about what Olympic gymnasts eat in any given day before one of the biggest competitions of their lives.
Obviously what these athletes eat is healthy,and gives their bodies optimum nutrition and fuel to train hard and prepare to perform their very best. In their sample training menus, you'll find plenty of lean protein, loads of veggies, and plenty of water to keep hydrated.
Sure, these ladies' eating habits are probably plenty more disciplined than most. But just like their otherworldly talents, it's good to take a look at what it takes to be the very best in the world — and it starts with a commitment to eating right.
What Aly Raisman Eats
Aly Raisman told Cosmopolitan she doesn't just drink hot water with lemon for hydration and to boost her metabolism:
...I just love the taste. I always eat the lemon pulp too—it gets less sour after soaking in warm water, and it's supposed to be super healthy.
Raisman eats a light breakfast of whole wheat toast and jelly, and eats plenty of lean protein and veggies, with a little pasta thrown in for training carbs. She also said she and her teammates cover most things they eat in one key ingredient:
I put ketchup on everything. And so do my teammates Gabby, Simone, Maggie, and Mykayla.
A few years ago, Raisman told Yahoo! she drinks plenty of chocolate milk for recovery. She also carb loads before a workout with a piece of fruit. Here's more on how she "fuels up."
What Gabby Douglas Eats
She gave Cosmopolitan the scoop on what a typical day of eating for Gabby Douglas is like leading up to the Rio Olympics. Her diet is pretty darn clean, but still allows for a little something sweet occasionally, including a handful of dark chocolate dipped almonds, and even a piece of homemade gingerbread for a dessert after dinner.
Breakfast can be a banana, oatmeal and tea, or even a waffle and cheesy eggs. Lunch and dinner include lean meats like chicken breast, grilled salmon, and — on tough training days when she needs more carbs — a cup of pasta.
Douglas' grandmother makes most of her food, including grilled asparagus, sweet potatoes, and even a taco salad, according to Cosmopolitan. But, just like the occasional dessert, Douglas' cheat day sounds delicious and balanced enough to keep her from feeling deprived.
I stick to my clean eating plan even on my days off, for the most part, but I had a larger breakfast than usual today. My grandma made waffles, scrambled eggs with cheese, and kosher beef bacon. It was good enough to get anyone out of bed!"
After her historic 2012 Olympics when Douglas won the individual all-around gold medal, First Lady Michelle Obama scolded the athlete about her choice of celebration breakfast on the Tonight Show with Jay Leno.
"I splurged on an Egg McMuffin at McDonalds!" she told the disappointed Michelle Obama who has championed healthy eating for American kids. "You're setting me back, Gabby!" Obama said, according to TODAY.
It's clear that the Olympians' commitment to their diets is only one facet of their passion for their sport.