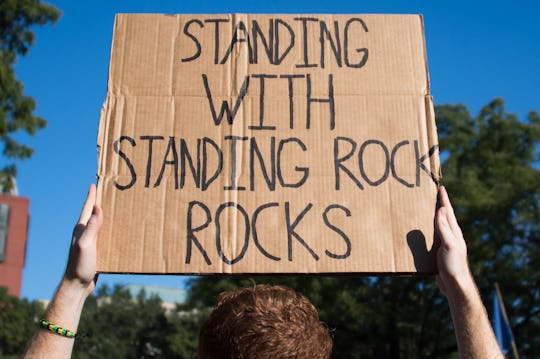 JIM WATSON/AFP/Getty Images
What Do The Standing Rock Protesters Need Most? It's More Than Just Facebook Posts
Social media plays an important part in how we talk about and address important issues facing our society. While sometimes this results in blocking some of your high school classmates' posts about the election, there's also a benefit to posting about current events on Facebook or Twitter. It allows people to hear about things they may never have gotten the chance to hear otherwise. This has never been more true than when friends on Facebook started checking in to the Standing Rock Reservation in North Dakota last week. No, half your Facebook friends didn't all decide to go on vacation in North Dakota without you. They were checking in to the location in solidarity with the Standing Rock Sioux tribe as they protest the Dakota Access oil pipeline. But while it's a nice gesture (and even that gesture has been debated by Native activists), the Standing Rock protestors need more than just Facebook posts.
Sue Evans, a spokeswoman for the Standing Rock Sioux tribe, spoke to The San Francisco Chronicle about the ongoing protests and the new Facebook trend of checking in to the protest remotely. "It starts a conversation with your friends about what this is about and why you posted it, which is good," Evans said. "We need people to take further action — whether that's asking [an elected official] to prevent the pipeline, or calling on your state to refuse to send militarized law enforcement to Standing Rock."
As Evens pointed out, the Standing Rock Sioux tribe need more assistance than a social media post if members are going to stop the Dakota Access oil pipeline and protect their sacred lands.
Whether you checked in on Facebook or not, there are still other ways you can help out. The protestors have requested that supporters contact both the Army Corps of Engineers and the Obama Administration in opposition to the pipeline, according to The Atlantic. The #NoDAPL group has also made it easy to find other ways to stand in solidarity with Native activists by simply visiting its website.
The Camp of the Sacred Stone was established all the way back on April 1, 2016. That's right, these protestors have been fighting the pipeline for seven months already and are in dire need in physical and monetary assistance. The simplest way to support them is by donating to the camps through their Legal Defense Fund for Sacred Stone Spirit Camp or by donating to a general fund on GoFundMe.
The #NoDAPL group have also created an Amazon Wish List and a general supply list that supporters can check out. They currently have a surplus of clothes, but are in need of "very warm, good condition coats, sweaters, and other winter wear." Some of their most dire needs include firewood, tipis, Lowes gift cards, trailers or campers for winter shelters, military style sleeping bags made to withstand subzero temperatures, and more. They also request that if you're to send multiple items from their Amazon wish list that you "please select 'group my items into as few shipments as possible' to help minimize waste."
Another thing that can help the protests: man power. Joining the Standing Rock protestors in person might be the most powerful way to help them fight. While there are probably many people who would love to do just that, sometimes it's just not possible. Luckily there are so many other ways to support the Standing Rock Sioux Tribe as they fight against the Dakota Access oil pipeline that, even if you can't be there in person to fight the good fight alongside them, you can still amplify their voices instead.
If you can't donate money or supplies, you can do something without spending a dime. Use your voice and speak up. Spread awareness through social media. Write to government officials, including President Obama. Let's all do our best to stand with Standing Rock.