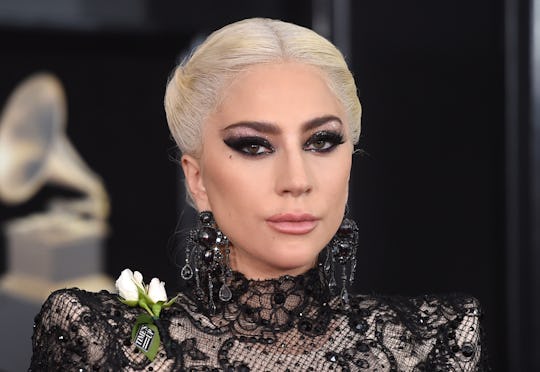 Jamie McCarthy/Getty Images Entertainment/Getty Images
Here's Why Everyone Is Wearing White Roses At The 2018 Grammys
If you've been paying attention to the news at all lately, you'll be aware that there's a women's movement happening right now, and the entertainment industry is very visibly supporting it. So if any of you are wondering what the white roses mean at the Grammys, let me help to clarify it for you. Just as movie and TV stars made a statement at the Golden Globes by wearing all black outfits, music's biggest stars are supporting Time's Up by pinning a white rose to their various wardrobes.
The Time's Up movement got it's first public splash at the 2018 Golden Globes, where everyone was encouraged to wear black in support of women and against sexual abuse and harassment. Almost everyone did. The initiative's organizers include Reese Witherspoon, Shonda Rhimes, and Ava DuVernay. They wrote a letter of solidarity published in The New York Times, and it was signed by 300 of Hollywood's most powerful women. The letter and the movement is to let everyone know that, "The clock has run out on sexual assault, harassment and inequality in the workplace. It's time to do something about it." And stars on the Grammys red carpet are letting everyone know that they support the movement too.
There was definitely an activist theme to the Grammys red carpet this year, with even E! hosts Ryan Seacrest and Giuliana Rancic carrying white roses. And instead of just asking the celebs about their music or their fashion, Seacrest and Rancic asked the stars why they were wearing a white rose and what the movement meant to them. Everyone gave great answers in support of equality.
Kelly Clarkson, who chose to carry a large beautiful rose instead of pinning one told Seacrest about the rose's symbolism, "I looked it up and I guess it represents hope and peace and sympathy and resistance. And I thought those were very lovely things for every human to encompass and to share with others." When asked what she thinks people should do to encourage hiring more women in the music industry, Clarkson said, "I think it it's gradually changing like that way anyway," and added, "A woman runs my label." She went on saying, "It's amazing to be a mother and have a mother running a label."
Cyndi Lauper (personal hero of mine), was focused on getting women equal pay for equal work in her response. "Women make up 51 percent of the workforce and it's about time we're paid equal," she said, adding, "Equality in the workforce would help not just women but men too." Sam Smith was excited for this movement to help equality for all people. "I hope we get better and I hope we keep struggling forward for equality for everyone," he said, explaining how important this was for him especially in regards to LGBTQ issues.
Though the Time's Up movement has been most visibly associated with Hollywood, in reality the letter of solidarity and the movement is in support of women across all industries. The letter specifically called out the Alianza Nacional de Campesinas (National Farmworker Women's Alliance), which sent a letter of solidarity to women in Hollywood in late 2017 following the wave of sexual assault allegations that hit the industry. In the letter, the women acknowledge their relative power and visibility, and use that to speak on behalf of all women. They wrote:
To women in every industry who are subjected to indignities and offensive behavior that they are expected to tolerate in order to make a living: We stand with you. We support you.
Suffice to say, it's clear this important movement is only just beginning.
Check out Romper's new video series, Romper's Doula Diaries:
Watch full episodes of Romper's Doula Diaries on Facebook Watch.