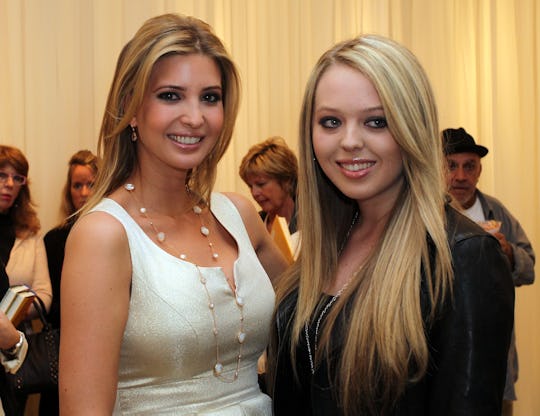 Frederick M. Brown/Getty Images Entertainment/Getty Images
What Do Trump's Daughters Think Of His Comments About Women? They Say He's Misunderstood
It appears that the period of denial is over: Donald Trump is the presumptive GOP nominee for president. He'll be continuing his campaign for the White House, full force, in the coming months. In terms of his politics, he can be hard to pin down, but his brash misogyny and sexism has been widely documented the past few months. He's been in scuffles with news anchors, he's called women "dogs" and "bimbos," and he's made condescending, insulting comments toward the remaining female presidential candidate, former Secretary of State Hillary Clinton. But, he's also a husband and a father. So what do Trump's daughters think of his comments about women?
Trump's wife, Melania Trump, has been very much in the background during this campaign. Trump's daughter, Ivanka, has stepped up as his partner and familial representative on the campaign trail. In terms of demeanor and appearance, she's nearly his opposite. She's poised, gracious, and well-spoken. She also has real hair. She's a mother to three children and holds an executive position in her father's company — that's a fact Trump often touts to prove that he does indeed hire women. His younger daughter, Tiffany, has also joined Trump from time to time during public appearances. Both of his daughters are champions of the feminist cause (according to their Twitter accounts at least), and yet, they are also firm supporters of their father. This seeming contradiction is hard to explain, but they have tried — on several occasions — to do just that.
Trump and his entire family were present for a televised town hall. When asked directly about Trump's comments toward women, Tiffany and Ivanka were quick to speak up. Tiffany said, "He has the utmost faith that we can accomplish whatever we put our minds to just as well as men, if not better." And Ivanka agreed, according to Hollywood Life:
I think the facts speak for themselves, I've witnessed these incredible female role models that he's employed in the highest executive positions my entire life. The way he raised me and the way he raised Tiffany is a testament to the fact that he believes in inspiring women and empowering women.
During a one-on-one interview with CNN, Ivanka restated that her father would be "amazing for women." She also spoke about her initiative (which is supported by her father), Women Who Work, which aims to empower women to rise through the professional ranks. She said that companies that do not work to promote equality are "simply going to fall behind," and that her father recognized that a long time ago. In regards to her father's comments towards women, Ivanka said that Trump has been very "misunderstood" during this campaign season. When journalist Poppy Harlow asked directly about Trump's comments toward Carly Fiorina and Megyn Kelly, Ivanka said that "the sensationalism around this was very orchestrated, largely by the media." She admitted that her father is very "blunt" and "direct," but redirected the conversation to his employment practices and the fact that she, a woman, is a high-level executive in his company.
When asked what Trump would do for women in this country, Ivanka deferred. She said he would be great for women, but could not offer any specifics. She said she would leave the policy positions to her father.