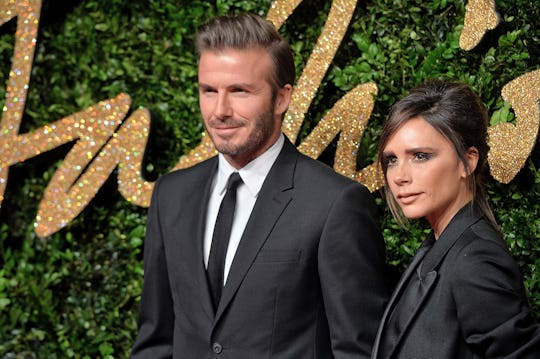 Anthony Harvey/Getty Images Entertainment/Getty Images
What Do Victoria & David Beckham's Kids Look Like Now? They're All Grown Up!
Like the majority of celebrity couples, former pro soccer player David Beckham and Spice-Girls-star-turned-fashion-designer Victoria Beckham have captivated fans through the years. Unlike so many other famous duos though, their relationship seems to have weathered the test of time — in fact, they celebrated their 18th anniversary this summer! (Can you believe it's been that long?) Dedicated followers of this gorgeous family probably already know that they have four children together. But what do Victoria and David Beckham's kids look like now? They're all grown up, that's for sure.
Before I blow your mind with a recent photo of the Beckham kids, let's take a moment to reflect on how it all began. The former Posh Spice and her sporty beau — who earned the nickname "Posh and Becks" by the media — first met at a charity football (soccer) match in 1997, reports BBC News. Back then, Victoria was still a member of the (epically awesome) Spice Girls — so David would frequently be spotted at her performances and signings, and she would attend his football matches. The love birds announced their engagement in July of 1998, according to the publication, and officially tied the knot a year later in July 1999.
The couple's first child — a son they named Brooklyn — was actually born a few months before their wedding, in March 1999. On David and Victoria's 18th anniversary this past summer, David shared the above throwback photo from their wedding day. (Just look how adorable little Brooklyn is!) Posh and Becks ended up having two more boys: Romeo in 2002 and Cruz in 2005.
Ultimately, David and Victoria Beckham completed their family with a baby girl in 2011. They decided to name their daughter Harper Seven — the "Seven" serving as a tribute to his soccer jersey number when he played for Manchester United and England, reports Us Weekly. "We've got three amazing boys, but there's a lot of energy with them. With Harper, she's so calm, she's so ladylike, she's so feminine," David told Access Hollywood in a 2011 interview. "Everything she does is a milestone … the way she holds herself, the way she breathes, the way she smiles, the way she makes noises. It's just — it's amazing."
So how are the Beckham kids doing today? Brooklyn, now 18, embarked on his first year at college in New York City in August, reports Us Weekly. Victoria shared an emotional tribute to her oldest child on Instagram after saying farewell to him this past fall, writing "We are all so proud of you Brooklyn. Amazing A level results and off to college. We love you so much and will miss you. #yesiamcrying#emotional" (Look how grown-up he is!) Apparently, Brooklyn has many talents, too: A photographer, a model, and a football player like his dad, to name a few.
Fans have also been able to catch glimpses of the other Beckham children through social media — and through their various passions. Romeo, for example has modeled for Burberry.
And Cruz looks like he might be following in his singer-mama's musical footsteps because he's got a decent set of chops. Check him out on Instagram!
Every once in a while, Victoria and David gift their social media followers with a shot of all four kids together. Earlier this year, David Beckham shared a photo of himself and his four children for his 42nd birthday, reports the Mirror. "A lot of love for Daddy today," the retired football star wrote.
And just today, Victoria shared a photo of all of her kiddos on Instagram, in celebration of Brooklyn returning home for the holidays from college, reports E! Online. "I'm so happy!!! All my babies together!!" the joyful mama wrote. In the shot, her four children have their arms around each other and are looking super grown-up. From the left is Romeo, 15, Brooklyn, 18, Harper, 6, and Cruz, 12.
Maybe it's because I grew up obsessed with the Spice Girls' music — and I loved watching Spice World and Bend It Like Beckham — but seeing David and Victoria's children all together like this makes me feel old. For me, this photo serves as a reminder of how quickly time flies. It makes me hyper-aware, too, that my own children are growing up way too fast. Thanks, Victoria and David, for continuing to share your beautiful family with us. I'll be sure to hold mine a little closer this holiday season — before they're all grown up, too.