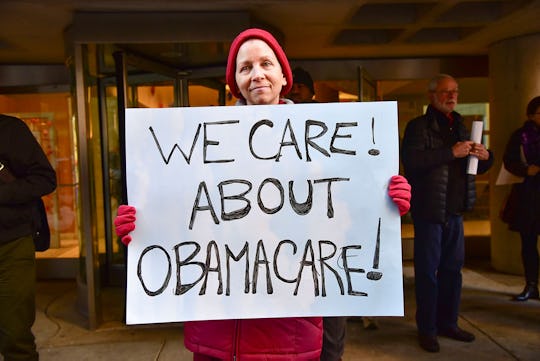 Lisa Lake/Getty Images Entertainment/Getty Images
What's Really At Stake If Obamacare Is Repealed
One of the many promises President-elect Donald Trump made on the campaign trail was that he would repeal the Affordable Cara Act, a.k.a Obamacare, as soon as he took office. Trump will be sworn in as president of the United states in just under two weeks, with the support of a Republican controlled Congress behind him. So while Republicans have been actively attempting to repeal Obamacare for years, they may actually be successful under Trump's administration. President-elect Trump, as well as the Republican-led Congress, aim for the federal government to spend less money by repealing Obamacare. The reality is, though, that we stand to lose a lot if Obamacare is repealed.
A new report released on Thursday by the Milken Institute and the Commonwealth Fund paints a pretty grim picture about what will happen if Obamacare gets repealed under the Trump administration. Leighton Ku, the director of the Center for Health Policy Research and lead author of the report, told CNBC that "repealing key parts of the ACA could trigger massive job losses and a slump in consumer and business spending that would affect all sectors of state economies." According to the report, about 22 million Americans could lose their coverage, up to 3 million jobs would be at risk, as well as the possibility of a $1.5 trillion reduction in gross state production forming between 2019 through 2023.
While Republicans would like to completely dismantle Obamacare, they do not hold 60 seats in the Senate. This fact makes a full repeal unlikely, according to The New York Times, but targeted changes could still be made to the law. The Times reported that Congress will be able to eliminate several consequential provisions through a budgetary process called reconciliation. In fact, the Senate and House were able to pass a reconciliation bill in 2015. If Obama had not vetoed it, it would have undone large portions of the bill. With a Trump at the helm over the next 4 years, however, it's highly likely that an updated version of this previous reconciliation will get passed.
The study conducted by the Milken Institute and the Commonwealth Fund aimed to predict what would happen if Congress was able to defund the federal subsidies that most Obamacare customers receive as well as funding that covers adults who became newly eligible for Medicaid under Obamacare. "The immediate and most visible effect of ACA repeal would be the loss of coverage and access to care for millions of people who have gained insurance because of the law," Sara Collins, vice president for health-care coverage and access at the Commonwealth Fund, told CNBC. "This study points to even larger potential economic effects that would be detrimental to the health and well-being of millions more."
There would be instant gratification for the GOP if these repeals were made. The federal government would save $140 billion in health care spending, according to the report. However, it wouldn't last. While Obamacare did require federal funding, the Milken Institute and the Commonwealth Fund pointed out that the majority of the money went to hospitals, health clinics, and other medical providers. This helped stimulate the economy, as well as assisted millions of Americans receive the health coverage they needed.
Overall, the report looks grim — however, there is one person looking to the future of Obamacare with a new sense of optimism. President Obama himself said on Sunday that he believes his signature bill will survive past his presidency. He told ABC's George Stephanopoulos that "when it comes to health care, the gains that we've made are there. Twenty million people have health insurance that didn't have it before. The uninsured rate is the lowest it's ever been."
While he believes the steps he's taken to improving our healthcare will live on, Obama acknowledges that in the future Obamcare "may be called something else. If in fact the Republicans make some modifications, some of which I may have been seeking previously, but they wouldn't cooperate because they didn't want to make the system work, and relabel it as 'Trumpcare'... I'm fine with that."