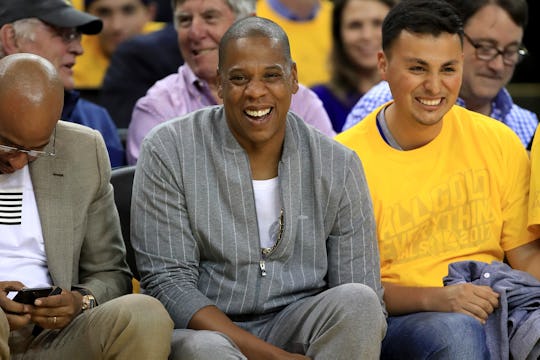 Ezra Shaw/Getty Images Entertainment/Getty Images
Does 4:44 Mean Jay Z Is Releasing New Music?
All over Times Square in New York City this week, plain taupe banners with nothing but "4:44" on them began cropping up, seemingly overnight. But, what does 4:44 mean? Many think Jay Z is about to drop a new album.
Update: On June 18, during a commercial for the NBA Finals game, Tidal aired a teaser for "Adnis," a track that will reportedly appear on Jay Z's upcoming album, 4:44, according to Pitchfork. The clip stars Mahershala Ali, Danny Glover, and Lupita Nyong'o. According to Pitchfork, the album will debut on Tidal on June 30, and some kind of film or visual form of the album will accompany it.
As pretty much everyone is aware of, Jay Z and Beyoncé are expecting twins basically any day now. And while it would be very like the couple to announce the birth of their new babies via a mysterious advertisement campaign, more people are assuming that the banners are actually alluding to a new Jay Z album, a la Bey's Lemonade in 2016.
As the banners were all over "hip-hop-oriented music and culture websites this morning–Complex, 2DopeBoyz, The Undefeated, perhaps others," fans seem to be confident that the advertisement is hinting at new Jay Z music, rather than an abstract birth announcement. In fact, observant internet users have noted that the URL for the 4:44 image contains "tidal-444," seemingly referencing Jay Z's own streaming site, Tidal. But, as 4:44 p.m. passed by uneventfully on the east coast, many fans were dismayed that nothing had happened yet. However, it's also important to note that Los Angeles is in a different time zone, and if something is happening at 4:44, it could very well mean 4:44 p.m., Pacific Time.
Of course, seeing as how Queen Bey hasn't posted anything on her Instagram page in more than a week, it wouldn't be too surprising if the 4:44 phenomenon was, indeed, about the birth of the twins. However, the internet seems to be in agreement that when the twins do come, it will be with a bang, not a whimper.
Complex, on the other hand, has perhaps the most interesting theory on what those three, repeating numbers could mean:
Now think about this: Beyoncé was born on Sept. 4, and Jay's birthday is Dec. 4; maybe the first "4" in "4:44" stands for Blueprint 4, and the ":44" stands for Bey and Jay...aka THE LONG-RUMORED COLLAB ALBUM BETWEEN QUEEN BEY AND HOV?!?!
Really, though, 4:44 could mean anything. It could be the title of a new album, the time at which a new album will drop, or it could mean absolutely nothing to do with Bey and Jay Z. It could, however scary this may sound, simply be referring to someone else's album, outside of the Beygency.
For now, though, it seems that the most logical explanation is, indeed, that new Jay Z music will be released soon. Whether that will happen at 4:44 p.m., though, is still up for debate.