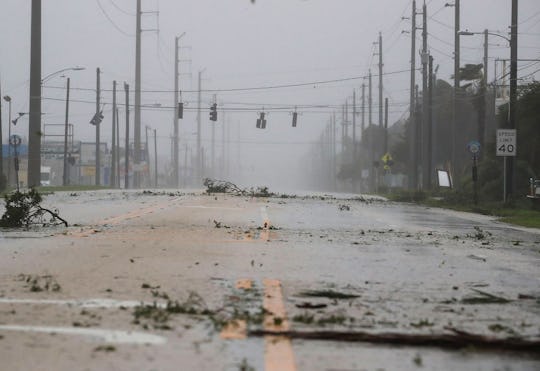 Mark Wilson/Getty Images News/Getty Images
What Does A Category 5 Hurricane Really Mean? Hurricane Winds Are A Really Big Deal
Hurricane Matthew brought intense winds, storm surges, and rainfall to the Florida coast Friday, knocking out power to more than 600,000 people in the state so far, according to ABC News. More than 1.5 million residents were ordered to evacuate by state officials, with Florida Gov. Rick Scott warning Floridians Thursday that "this storm will kill you." At approximately 2 a.m. Eastern Time, the hurricane was downgraded to a Category 3, though meteorologists were predicting that the storm could have strengthened to a Category 5 before hitting the state. What does a Category 5 hurricane really mean? It's based on wind speed and destruction.
Hurricane Matthew, which hit Haiti and the Bahamas before moving onto Florida, is notable for its high winds, in some instances producing gusts well in excess of 100 miles per hour. And clearly, the storm is not messing around — according to ABC News meteorologists, "no other Atlantic storm on record has packed such powerful winds for such a prolonged period." The high winds accompanying the hurricane are exactly what make it so dangerous, and why it was expected to receive a Category 5 designation. According to the National Hurricane Center, hurricanes are graded on the Saffir-Simpson Hurricane Wind Scale, which are based on a hurricane's "sustained wind speed." To be considered a "major" hurricane, a storm would have to have winds of at least 111 miles per hour, meaning it would be at least a Category 3. A Category 5 hurricane — the strongest category there is – would have sustained wind speeds of at least 157 miles per hour, and would be expected to cause "catastrophic damage."
In a YouTube video, Weather Channel meteorologist Mark Elliot explained exactly what these different wind speeds could mean in terms of destruction — and it's not pretty. While lower-category hurricanes can cause trees to bend and the siding to pull away from buildings, higher category hurricanes can cause seriously scary damage. In a Category 3 hurricane, for example, winds are strong enough to crack trees in half, to blow in front doors from sheer force, and to start peeling roofs off of houses. In Category 4 and 5 hurricanes, the destruction is even more pronounced: windows are shattered, roofs are blown clear off, walls can cave in, and pretty much all the trees that were once standing would have been knocked down. But, as Elliot noted, "that's just the wind" — hurricanes also bring with other issues, like rain, flooding, storm surges, power outages, and the inability for emergency services to actually rescue anyone in need, which all makes it that much deadlier for anyone who hasn't evacuated.
Already, Hurricane Matthew has left an estimated 271 people dead in Haiti, according to CNN, where it hit as a Category 4 hurricane. The death toll is expected only to rise as further reports come in. According to USA Today, President Obama warned Americans not to underestimate the danger of Hurricane Matthew, urging everyone on the southern coast to heed evacuation warnings:
If they tell you to evacuate, you need to get out of there and move to higher ground. Do not be a holdout here. We can always replace property. We cannot replace lives.
South Carolina Gov. Nikki Haley has also warned of the potential for significant destruction as the hurricane is expected to move north, according to The Guardian, noting that officials "think it is getting worse," and that "there is nothing safe about what's getting ready to happen" in South Carolina. An estimated 310,000 people in the state have already evacuated, though some have opted to stay. Haley pleaded with those who have ignored the warnings, telling residents, "This is the last time you will hear my voice, when I'm asking you to evacuate."
Mandatory evacuations have been issued in Florida, Georgia, South Carolina and North Carolina due to the danger posed by Hurricane Matthew. According to The Weather Channel, the first storm-related death has occurred in St. Lucie County, Florida, and reports of houses catching fire from downed power lines are now also beginning to circulate. Florida Gov. Rick Scott has urged that everyone Scott urged residents to have "at least a three-day supply of food, water, and medicine," and to keep their cell phones charged as best they can.