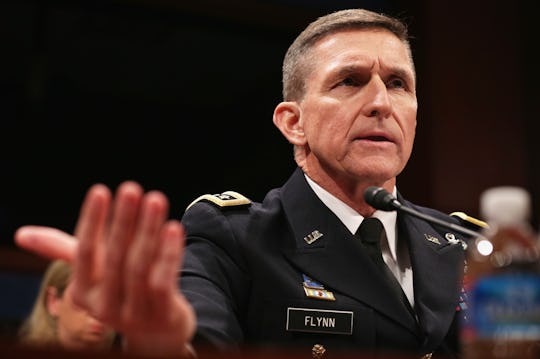 Alex Wong/Getty Images News/Getty Images
What Does A National Security Adviser Do? Gen. Michael Flynn Was Offered The Job
President-elect Donald Trump has considered friends and (former) foes alike in filling his Cabinet. The role of national security adviser, though, will likely go to a friend, should the friend accept Trump's ask. What does a national security adviser do? Gen. Michael Flynn was offered the position — one that will serve "to guide [Trump] through some of [Trump's] most critical national security decisions."
CNN explains that a national security adviser is "critical to implementing a president's worldview on the various departments and agencies involved in national security." The role "is arguably the most important national security position in the government," notes Peter Bergen, CNN's national security analyst. In working with Trump as his national security advisor, Flynn would "[manage] the daily creation and implementation of foreign policy and [act] as a foreign policy advisor."
Flynn, a registered Democrat, was often found on the campaign trail with Trump, even professing "the enemy camp in this case is Hillary Rodham Clinton," this past summer while in Florida. The LA Times notes that, in addition to being "one of the only high-ranking national-security officials to have publicly aligned himself with Trump," retired Army Lieutenant Gen. Flynn served as a "close adviser to Trump throughout the presidential campaign and has worked with him on national security issues during the transition."
Bearing striking similarities to one another, Trump and Flynn have both made reputations for themselves in their manner of speaking; In the way that Trump believes that he "[doesn't], frankly, have time for total political correctness," Flynn has assured that he's "not a devotee of so-called political correctness," either. Taking this to an extreme, Flynn has even asserted, without proof, that "American Islamists are attempting to create 'an Islamic state right here at home' by pushing to implement 'legal standing for Sharia,'" reports The New York Daily News.
Flynn, as one would expect, touts extensive military experience. The three-star general "ran the intelligence operations that helped put al Qaeda on the run" in Iraq in 2007. Five years later, he was the head general of the Defense Intelligence Agency (DIA), a position Flynn stepped down from eventually. Flynn made waves most recently at the Republican National Convention this year where he led chants of "lock her up!" while criticizing the Obama administration's handling of national security issues.
This partnership presents obvious concerns. Having an easily-angered adviser with anti-Islamic sentiment illustrates the already-dictated direction that the Trump administration will take — a direction that Flynn has obviously already been able to shape during Trump's campaign. Flynn's influence, should he accept the position, would remain central, if not paramount, to Trump's national security policies.