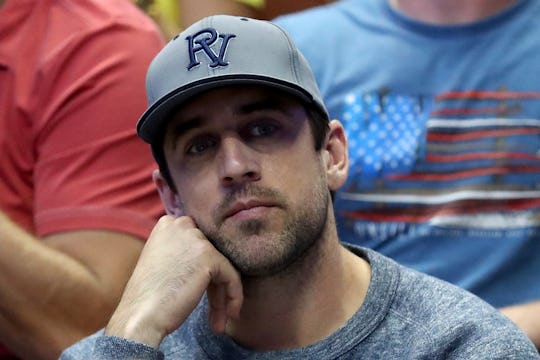 Sean M. Haffey/Getty Images Sport/Getty Images
What Does Aaron Rodgers Think Of Jordan On 'The Bachelorette'? He Hasn't Said Much
Season 12 of ABC's The Bachelorette will likely bring all sorts of viewers, from those awkwardly rooting for 33-year-old erectile dysfunction expert Evan, to those who can't help but fall in love with adorably all-American war veteran Luke. This year will also potentially bring in fans from an entirely new fanbase as well, given that former pro-quarterback Jordan Rodgers will be vying for JoJo's heart and will likely draw in curious sports fans eager to see how Packers quarterback Aaron Rodger's little brother fares in the love-limelight. But what exactly does Aaron Rodgers think of Jordan's Bachelorette stint, and will he be supportive?
So far, both men have stayed quiet and seemingly out of one another's hair. But although it's not clear whether Aaron will be watching Jordan battle it out with the other 25 Bachelorette contestants come May 23, it's a safe bet that he'll still be fairly supportive, if only out of brotherly love.
In an interview with the New England Sports Network back in February, Jordan defended his brother's 2015 NFL season and Aaron's relationship with actress Olivia Munn, saying that football in general was a "tough sport" and that Aaron had "made the best of what he could." In reference to Munn, Jordan noted,
She's been great. Obviously, there's been a lot of stuff about, "Oh, he's playing bad. It's because he has a girlfriend now." [...] Fans are going to do that.
So whether or not Aaron is talking, it's probably likely that he's planning to return that favor and keep an eye on his brother's love life, even if from afar.
Aaron himself has mentioned very little about his brother's Bachelorette stint, but it's a safe bet he's not totally opposed to the idea of Jordan's reality television gig, having previously appeared on Celebrity Jeopardy himself. (Aaron faced off against Shark Tank's Kevin O'Leary and astronaut Mark Kelly in 2015 and won $50,000 for the Midwest Athletes Against Childhood Cancer (MACC) Fund.) Of course, watching your brother make out with a woman on national television is pretty awkward, so he could very well be reluctant to tune in all the same.
Regardless, Aaron seems to have a pretty good understanding of what it takes to maintain a public love-life, so maybe he can give his brother a few pointers. In an interview with ESPNWisconsin.com's Jason Wilde in June 2014, Aaron spoke openly about maintaining a relationship under the public microscope, saying,
You cannot hide from the spotlight. You have to learn to embrace it. There's always going to be attention or scrutiny, and you can either understand it comes with the territory and embrace it, or you can lock yourself away.
Regardless of what happens on this season's Bachelorette, there will likely be no lack of support on Jordan Rodgers' end from his brother Aaron. And if nothing else, the two can at least vent together later over having to watch their love lives be dissected by fans in scrupulous detail. Or you know... workout together:
Amazing.