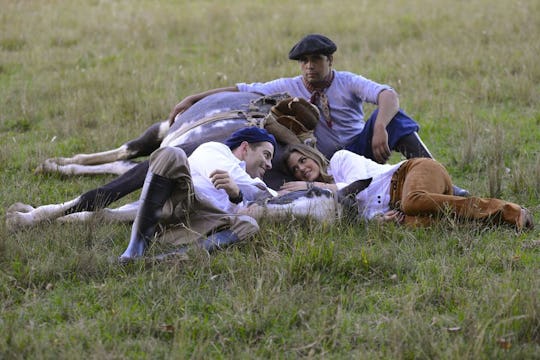 Veronica Gambini/ABC
What Does Alex Think Of Jordan Now? 'The Bachelorette' Contestant Plays It Cool
In a move that was not entirely surprising but still delightfully ice cold, JoJo kicked Alex to the curb on The Bachelorette not long after he confessed his love to her. She just wasn't feeling it, no matter how much making out they did on top of a napping horse in an Argentine field. JoJo may shed a few (or more) tears every time she has to say goodbye, but that's the nature of the game; if her vibe with Alex wasn't up to snuff, then JoJo was doing the right thing by sending him packing. And it wasn't really sad to see Alex go (sorry, pal) because he could be kind of, well, irritating. He picked on the other guys, he threw a hissy fit when JoJo kept him around another week (??), and his idea of flirting involved Pringles kissing. He hasn't kept his feelings about the other guys a secret, so does Alex have anything else to say now that he's gone? What does Alex think of Jordan now?
Despite going in on Derek for being "an insecure little b*tch," among other charming statements, during his time on the show, Alex is all positivity now that he's no longer around. In an interview with Reality TV World, Alex claimed that he liked everyone in the house except Chad, and he dismissed the rumors of shadiness on Jordan and Robby's part.
Quite frankly, whatever I have read or heard about through the grapevine and through family telling me about these things with the other guys and what they may have been doing there, to me, it's a hard call. I know them personally. I trust their character and I trust that there might be a misunderstanding with whatever is going on with them. They seemed genuine to me!
In a surprise turn, Alex has nothing but good things to say about the guys he shared space with. Alex insists he kept his focus on JoJo while refusing to comment on whether Jordan – or any of the other guys – were there for less than genuine reasons. "Maybe one day I'll be able to look at them straight up in a private conversation and ask them about it," Alex said, "but as far as I'm concerned, I have a ton of respect for the guys who went through this with me. And the truth will come out on day; I just don't really have an opinion on it right now."
It's a pretty mature road to take, so good on Alex for finally finding it.