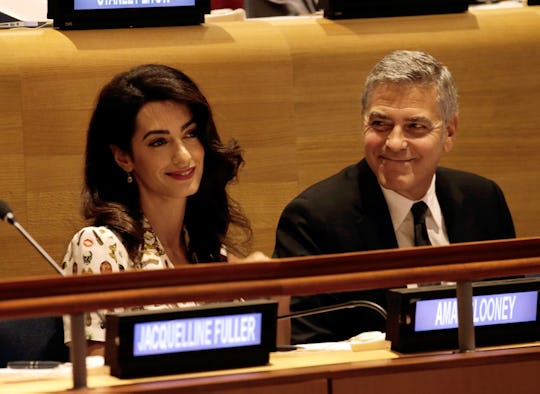 Pool/Getty Images News/Getty Images
George & Amal Clooney Picked The Perfect Baby Names
The Clooney twins are finally here and we already know their names. Alexander and Ella are the first kids for both George and Amal Clooney, and many can't help but wonder what does Alexander mean? Alexander actually has multiple meanings, though they're all pretty similar. The American and Greek meaning is "Defender of man." The Biblical meaning is "one who assists men" and the Shakespearean meaning is "a Kentish gentleman."
Though the popularity of the name has decreased in recent years, Alexander was still ranked as the eleventh most popular name for boys in the U.S. last year. But, of course, now that the Clooneys have given their son the name, I'm sure it's bound to gain in popularity once again. Plus, it's just a really great name, there's no denying it.
It's unclear how the Clooneys decided on these names for their children. Alexander doesn't appear to be a family name, nor does Ella. However, the two names are cute and it's nice that the couple got both a girl and a boy in one fell swoop.
As is to be expected, there hasn't been much other information given about the twins just yet, other than the family's initial statement, given to People magazine by Clooney's rep:
This morning Amal and George welcomed Ella and Alexander Clooney into their lives. Ella, Alexander and Amal are all healthy, happy and doing fine. George is sedated and should recover in a few days.
So clearly the family is doing well and the twins and mom are all happy and healthy. It was first confirmed the couple were expecting twins back in February, though the family kept a pretty tight lip on the whole thing, which was to be expected. George did open up about preparing to be dad during an interview with Laurent Weil in late February.
"We are really happy and really excited," he said, according to People magazine. "It's going to be an adventure. We've sort of embraced it all... with arms wide open." George also opened up about "feeling a little better about being 56" when the twins came. I'm sure the twins won't care how old their dad is, they'll just see him as a really cool dad, especially once they figure out who he is to the whole world.
With a dad like him and an incredible, world-saving attorney for a mom, these twins are totally set.