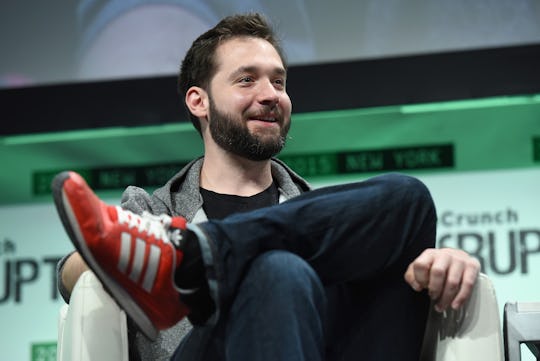 Noam Galai/Getty Images Entertainment/Getty Images
Meet Serena Williams' Fiancé, Alex Ohanian
Earlier this month, Serena Williams delighted the world when she confirmed the surprising news that she was about 20 weeks pregnant with her first child, and, already, fans can't wait to meet the 35-year-old tennis superstar's bundle of joy later this year (because he or she will totally be unstoppable, that's a given). Other than having a mom who is one of the greatest American athletes in history, the little one's father also has a very impressive resume. So, what does Williams' fiancé, Alexis Ohanian, do for a living?
The 34-year-old Brooklyn native is the co-founder of the popular social news site Reddit, and currently serves as executive chairman of the site, which he started after he graduated from the University of Virginia in 2005, according to The Sun. He's also behind the travel search engine Hipmunk and Breadpig, a "geeky retailer"site that also offers services "to creators looking to self-publish and/or crowdfund their next project."
Needless to say, the father-to-be has done a lot in his short career and his success has not gone unnoticed. Since the Reddit's inception, Ohanian has been regarded as one of the most important figures in the technology industry. In 2011 and 2012, Ohanian was included in Forbes "30 Under 30" list in technology. One year later, he and Reddit's former general manager, Erik Martin, were featured as "champions of innovation" in the 20th anniversary issue of Wired. And just last year, he was named one of Fast Company's "Most Creative People in Business."
And those are just some of his awards: Ohanian has a reported net worth of $9 million, according to the Celebrity Net Worth.
He's also a political activist for issues relating to the internet and, in 2012, he partnered with the online advocacy group Fight for the Future, which Forbes dubbed the "Internet Defense League." He also published a bestselling book in 2013, entitled Without Their Permission: How the 21st Century Will Be Made, Not Managed.
As for his relationship with Williams', after quietly dating for over a year, the soon-to-be parents announced their engagement in December 2016 in an adorable Reddit post, which featured a drawing of a Snoo, the site's mascot, on one knee, holding out a diamond to a female Snoo dress in tennis gear, according to The New York Times.
Earlier this week, after Williams' pregnancy was confirmed, the father-to-be took to Twitter to share a new Snoo with his followers, presumably depicting him and the expectant mama smiling while looking at the lady Snoo's bump.
The couple's pregnancy was revealed last week after Williams mistakenly posted a photo of her budding baby bump on her Snapchat story, as she told Gayle King at the TED2017 Conference in Vancouver on Tuesday night.
While this news may have gotten out sooner that the pair had planned, fans are certainly happy to be in the loop as they anxiously wait for this power couple's first child to arrive.