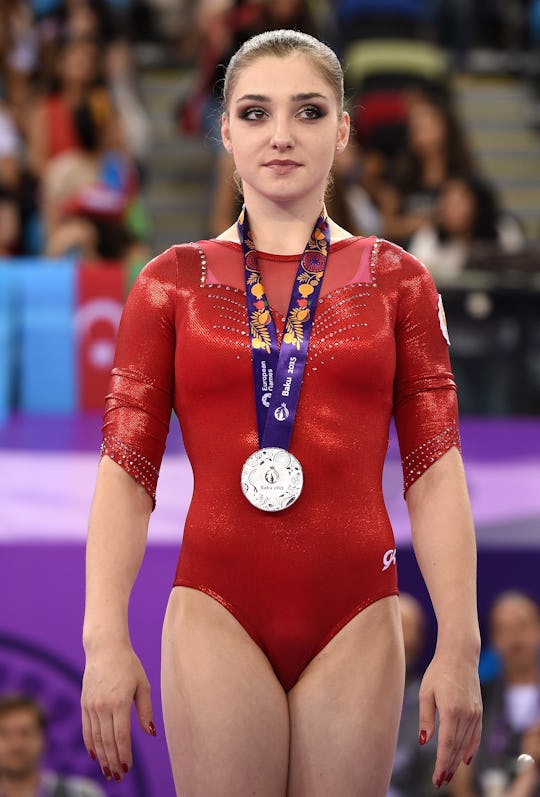 Matthias Hangst/Getty Images Sport/Getty Images
What Does Aliya Mustafina Think of Simone Biles? They're Fierce Competitors
The individual all-around competition, unlike the women's team-all around, has been a close race. Russian gymnast Aliya Mustafina has proven herself to be U.S. gymnast Simone Biles' closest, non-U.S. competitor. Biles has been untouchable up until this point, so this twist offered quite the shock for fans and judges alike. Competing against a global phenomenon can be extra intimidating, so what does Aliya Mustafina think of Simone Biles?
Mustafina hasn't said much about her biggest rival, but the numbers and the fierce competition speak volumes: At the halfway mark of the individual all-around competition, it appeared that Mustafina might beat Biles. Her 30.866 overtook Biles' 30.832, albeit just barely. At this juncture, though, Mustafina had completed her best event, and Biles her worst. Biles' strongest was still to come and Mustafina had an uphill battle ahead of her if gold was in her future.
With three of the four rotations completed, Biles was able to grab first from Mustafina by a sizable margin: 46.265 to 44.732. Biles' teammate, Aly Raismanl secured a close third with 44.665, with hopes of overtaking Mustafina for silver.
Floor was the final, distinctive factor between Biles and Mustafina. Biles' floor routine has always been her signature event as she relies on her power and strength to impress. Graceful and elegant, though imperfect, Mustafina's final routine earned her a 13.933, which resulted in a final score of 58.665. This gave Raisman the opportunity she was counting on. In a phenomenal effort to clinch silver, Raisman fought hard for her 15.433, securing her place on the podium. Biles also completed her day on an absolute high note. With a 15.933 floor score and 62.198 total score, Biles won gold with unparalleled ease.
In an interview translated by the Rewriting Russian Gymnastics blog on July 7 of this year, Mustafina discussed her preparation for Rio. She remarked that "it will now be very, very difficult to fight Simone Biles [in the AA] because she has a very large D-score." Essentially, Biles' routines have such a high level of difficulty that very few are able to even compete with them. This suspicion likely rang true in the individual all-around, especially in the latter half of the competition. In comparing Biles' and Mustafina's D-scores, Biles' score outdoes Mustafina's by 0.7 points.
This wasn't Mustafina's first Olympics, nor was it her first Olympic medal. In 2012, she took home gold for her uneven bars routine, eclipsing U.S. competitor Gabby Douglas. Whereas Mustafina has obvious strengths, it's Biles' evenness and prowess across the board that have yielded her such success.