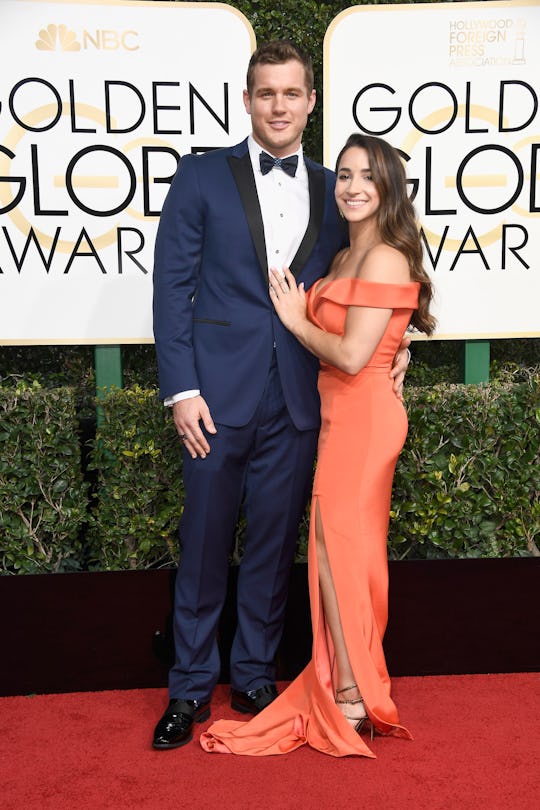 Frazer Harrison/Getty Images Entertainment/Getty Images
What Does Aly Raisman Think About Her Ex On 'The Bachelorette'?
During The Bachelorette premiere, contestant Colton Underwood talked a lot about football, his charity work, and his dog... but conveniently left out his Olympic gymnast ex-girlfriend, Aly Raisman. What does Aly Raisman think of Colton on The Bachelorette? The two dated for around a year — six months in secret, having their first public appearance in late 2016 — and broke up in August 2017.
Aly and Colton actually met in an interesting way. Colton asked Aly out in a video Q&A; they were both in Denver at the time, and she said yes. She told People that she kept their relationship quiet for a while, but had been dating since the 2016 VMAs. "We happened to both be in Denver at the same time," she told People about how they met. "I was there for less than 12 hours, he was flying in for just a few days. It just ended up working perfectly."
The two walked several red carpets together, including the 2016 Sports Illustrated Sports Person of the Year Ceremony and the 2017 Golden Globes. Unfortunately, it didn't last. Several months later Aly and Colton, now an "ex-football star" due to an injury, broke up. Colton opened up about the break-up in the Lincoln Journal Star.
According to Colton, the main issue was long distance: she was in Massachusetts and he was in Colorado. "We're taking a break right now," Colton told the Star. "We're still good friends and talk, but all that travel had been a nightmare." He also revealed that being in the public eye for the second half of their relationship was stressful for them. "It put a lot of pressure on us, sure, but we had fun with it. A lot of fun date nights," he continued. "Those six months were great."
Well, Colton is back in the public eye — only this time, he's solo and looking for love. What does Aly Raisman think of her ex going on The Bachelorette? She hasn't made any public statements, but her team member Laurie Hernandez did speak out about Colton and Aly. In a video interview with OK! (starting at around 3:00), Hernandez said she and her friend/teammate "don't talk about that." She continued, "It's girl code, we're all Team Aly." Other than that though, Aly and her crew have all kept mum about this.
Aly and Colton met on social media, which seems to be Colton's move of choice (except, of course, going on reality television to find a partner). Becca confirmed rumors that Colton and Tia Booth, from last season of The Bachelor, were also romantically linked.How did they meet? Allegedly, Colton slid into Tia's DMs. "Yeah, they did have a past, so that's something Tia and I had conversations about," Becca told ET. "They dated. I don't know how serious it was, but you'll see all of that unfold throughout the season as well."
Becca made sure to let fans know that she liked Colton from the start of the season, though. In that same interview she said, "I remember thinking how big of a heart he had." She continued, "What really drew me to him that first night was the fact that he had started a nonprofit [for cystic fibrosis], and that's something near and dear to my heart because two of my cousins have it. So night one, I felt like we really connected over that."
It remains unclear whether his relationships with Raisman and Booth will cause Colton to be kicked off the show, but it certainly will be interesting to see it all unfold. I doubt Aly Raisman will be watching — she probably has better things to do, like training for the Olympics.