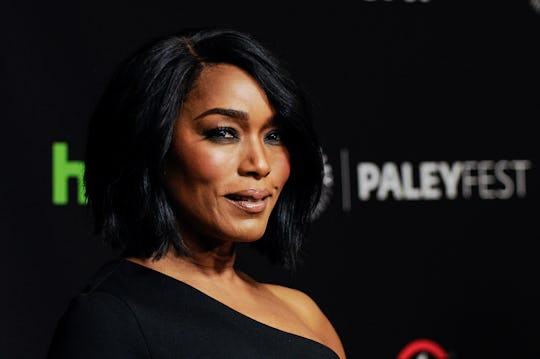 Emma McIntyre/Getty Images Entertainment/Getty Images
What Does 'American Horror Story: The Mist' Mean? Season 6 Could Be Very Different
Keeping spoilers from being spoiled is a tough job, especially when it comes to television. The length of production can lead to all kinds of plot-foiling slip-ups: filming pictures, actor interviews, and even leaked scripts can all reveal important details before the right time. American Horror Story had actually been doing a great job of keeping Season 6's mystery theme a genuine mystery – until recently, that is. Two separate sources (Rotten Tomatoes and TV Guide, which are seemingly reliable) reportedly listed the new season's title as American Horror Story: The Mist, giving everyone a heads-up about a theme that had been kept tightly under wraps. But what does American Horror Story: The Mist mean?
It bears noting that there's no guarantee that this is actually the theme of the season, though there might be some evidence that it is. Out of the show's numerous misleading promos, one was titled "The Mist" and showed a bizarre creature crawling along train tracks in a thick fog. At least one of the promos is guaranteed to be true, so if the slip-ups are to be believed, this really could be the season's theme. But seriously: what does it mean?
People have begun to speculate that Season 6 could be based on the Stephan King novel The Mist, which was adapted to the screen before in 2007 and is also currently being adapted for TV for Spike. AHS has never directly adapted something before (though there have been plenty of references to other books, movies, and true crime stories), so that would be a serious change for Season 6.
The plot of King's novel concerns a small New England town that is beset upon by a mysterious mist. The mist contains bizarre and dangerous creatures who violently attack anyone who tries to pass through it. Considering AHS's mist-based promo does indeed feature an odd being emerging from the fog, that could be intended as a direct reference to King's novel. However, with another adaptation in the works, it seems unlikely that both FX and Spike would have the rights to the same novel.
Still, AHS could be inspired by the novel without directly adapting it. A strange, inexplicable mist or fog has shown up in other works of horror (such as the 1980 film The Fog), and AHS has always drawn from multiple sources. It's possible the show only borrowed the general idea and will have entirely different storylines and characters.
Usually the theme of a season of AHS refers to the setting and not the phenomena that will end up tormenting the characters, so it would be unusual for the show to change things up in the sixth season. But that seems to be what they're doing in other ways: keeping the theme secret is also unusual for the show, and the narrative format of the show is said to be different this year, too.
Either way, even with the theme possibly revealed, it seems this season is all about the mystery.