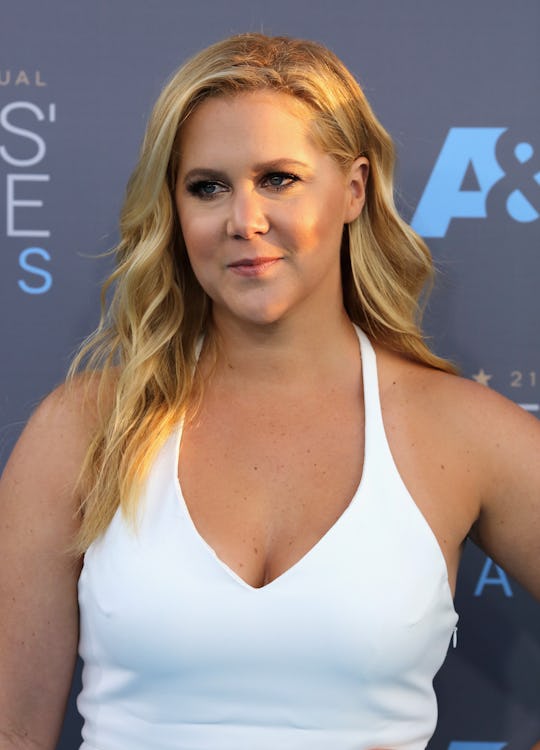 Mark Davis/Getty Images Entertainment/Getty Images
What Does Amy Schumer Think Of The 'Gilmore Girls' Trailer? She's Spoken Out About Lorelai
Today was a big day for Gilmore Girls fans. After nine years post-Gilmore Girls finale, Netflix finally released the trailer for Gilmore Girls: A Year in the Life. The trailer has everything fans of the show are interested in — Lorelai and Rory sitting in their home, drinking coffee, talking about basic nonsense. That nonsense, though, has been updated with a 2016 flare, as Amy Schumer has become the subject of the trailer — Schumer and a rare plant, actually. So, what does Amy Schumer think about Gilmore Girls, and more importantly, would she like Lorelai Gilmore? Don't worry, the funny lady has spoken out about the fictional funny lady.
Gilmore Girls is certainly going to look different when it premieres November 25 on Netflix. The series ended in 2007, but the four 90-minute installments are going to bring a modern and fresh look into the mother-daughter relationship to beat all mother-daughter relationships, that of Rory and Lorelai Gilmore. Now, Lorelai and Rory have iPhones, and they have questions about Amy Schumer — as any normal person would — and things are very millennial now. Hey, if that's who the audience is, then carry on Gilmore girls.
Of course, a witty 2016 trailer wouldn't be complete without Lorelai asking, "Do you think Amy Schumer would like me?" Rory says no, I think yes. But, the real person to ask is Amy Schumer herself. So, would Schumer like her?
"I would love her!" Schumer said in a tweet responding to Vulture's teaser trailer. It really comes as no surprise that Schumer would love Lorelai Gilmore though, does it? The two are both smart, strong, independent women who know exactly who they are in life and don't apologize for it. They are both role models for young women, just 10 years apart, and it could not be more awesome to see that Schumer would "love" Lorelai Gilmore. (Then again, how can you not love Lorelai Gilmore?)
The series will premiere on November 25 on Netflix (worldwide) and there's no doubt that this will serve as a sort of therapy for fans to finally rid themselves of the question, "What are those final four words?" Amy Sherman-Palladino said at the TCA that she would urge fans to not fast forward to the final moment to hear the final four words she's spoken about for years. "It really is a journey… It's going to mean a lot less if you just flip to the last page," she said at the TCAs. "I would hope that people would want to take the whole trip. It's a fun trip. It's worth it." I'll say this now, it will be tough, but if it's "worth it."