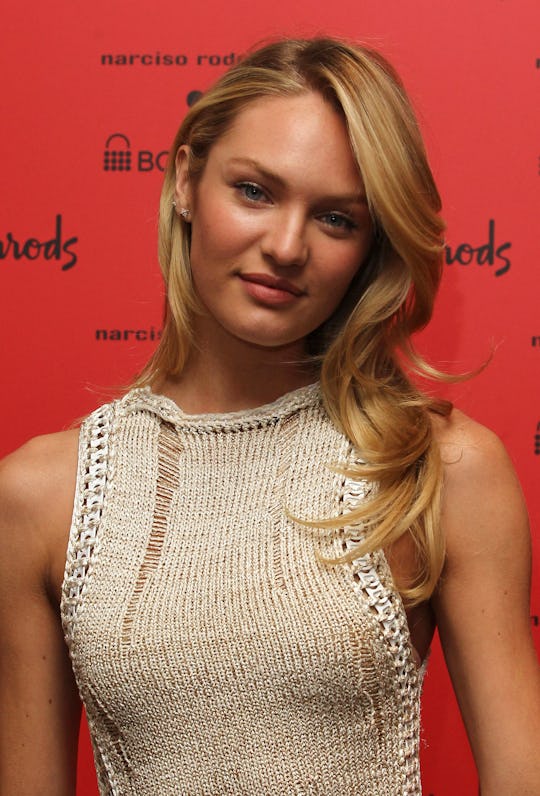 Fred Duval/Getty Images Entertainment/Getty Images
What Does Anaca Mean? Candice Swanepoel Welcomed A Baby Boy
Victoria's Secret model Candace Swanepoel and fiancé Hermann Nicoli, welcomed their first child, a baby boy named Anacã, according to E! News on Friday. But what does the name Anacã mean? Swanepoel, who can speak Portuguese, Afrikaans, and English, named her son after the Brazilian word for "bird," according to the Daily Mail. Specifically, anacã means "red parrot." A source reportedly told E! News that the couple is "very excited."
Swanepoel reportedly revealed the baby's name at her baby shower in August, which was safari-themed, complete with a stuffed animal lion and a stuffed animal giraffe. Then, back in May, Swanepoel revealed she was having a baby boy with an Instagram captioned "my not so little boy," according to E! News.
The baby's height and weight was not immediately released, and Swanepoel has yet to update her Instagram with any images. But, given how public she's been about her pregnancy and how many images of her pregnancy bump she shared on Instagram over the last night month, there's no doubt that she'll likely share an image of Anacã once he's home and settled in.
Photographer and friend of the couple Jerome Duran shared a beautiful image of Swanepoel on Instagram. In it, she's naked and pregnant, but — in a creative touch — her nipple is covered with a little sparkle (because, you know, you can show men's nipples on Instagram by not women's).
Swanepoel isn't the only Victoria's Secret model that recently became a mom, either. Behati Prinsloo gave birth to their first daughter, Dusty Rose, about two weeks ago, according to Us Weekly. Prinsloo's husband and singer Adam Levine posted a photo of the beautiful baby on Instagram a week ago:
He captioned the image:
Words can't describe 💗 Dusty Rose Levine 9/21/16
And clearly the couple is really feeling all the post-baby and family love right now. Because a few days later, Prinsloo shared an image taken by Travis Schneider of Levine's tattooed back with the caption "Baby daddy," according to Us.
Hopefully Swanepoel will drop some similarly adorable images once she gets some rest and settles into the role of mom. One thing is for sure: her newborn images are sure to have impeccable lighting. But, will the baby have her same perpetually-bronzed look? Fans will just have to wait for photos to find out.