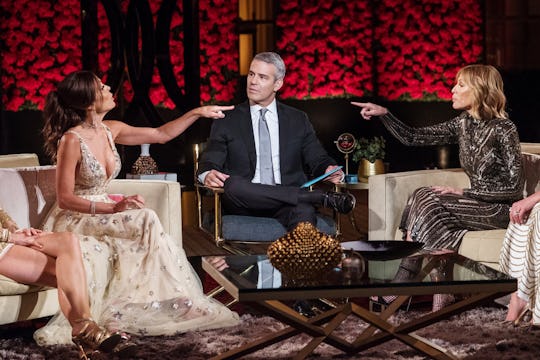 Bravo
Andy Cohen Is Awkwardly Stuck In The Middle Of Bethenny & Carole's Feud
The Real Housewives of New York City just wrapped up its tenth season, and, amidst cabaret shows, alcohol abuse interventions, and an arrest, Bethenny Frankel and Carole Radziwell's bitter fight was still one of the biggest stories of the season. So what does Andy Cohen think of Bethenny and Carole's feud? He's in the tough position of having been friends with both of them for over a decade and their employer.
"It is a little awkward, but the good news is that both of them understand my role and they understand that I am friendly with the other person," Cohen told E! News at the beginning of the season. "And so the last thing that I would want to be is in the middle of this feud, but of course, by nature of what I do, it's kind of where I find myself in a weird way."
It all started when Carole decided to spend the bulk of last summer in Los Angeles, comforting a grieving friend who was recently widowed. The time apart seemed to trigger some of Bethenny's insecurities about the friendship and as she clung tighter to it, Carole only got more turned off. Honestly, it was tough to watch.
"I loved their friendship, I really did," Cohen told Page Six when Season 10 first premiered. "I knew Carole for years before she met Bethenny and vice versa...It's not fun to see friendships fall apart, its very relatable I think for a lot of women to watch two friends drift apart and wonder why and what's going on so I think it makes interesting television but it's real, so its tough [sic]."
At one point, Bethenny griped to the other women about how Adam, Carole's on-again-off-again boyfriend, would only agree to be her hurricane relief photographer if the gig was paid. By the time the news reached Carole, it seemed clear that Bethenny was just hoping for sympathetic reassurances that her friend still cared about her. But Carole didn't seem to be aware of that and defensively dug her heels in on the surface-level Adam issue. Eventually, this devolved into an unenviable dynamic in which Bethenny couldn't be around Carole without bursting into tears and Carole didn't have any compassion left to show her.
Once the reunion show rolled around, Bethenny was well past her sadness and seemed hellbent on inflicting just as much pain as she suffered on an unremorseful Carole. After the taping, Carole released a statement announcing that she was leaving the show and rumors swirled that it was because Bethenny had so thoroughly eviscerated her during the reunion. Bethenny followed up with a tweet implying that Carole had actually been fired rather quit of her own accord.
"I never really comment on contracts or hiring or firing but I will say that we're gonna miss Carole a lot," Cohen told Us Weekly last month. She was an important part of the show for six years. I've known her for a long time, since the late '90s I think. So we obviously all wish her well."
The final part of RHONY's reunion show airs Wednesday, September 5.