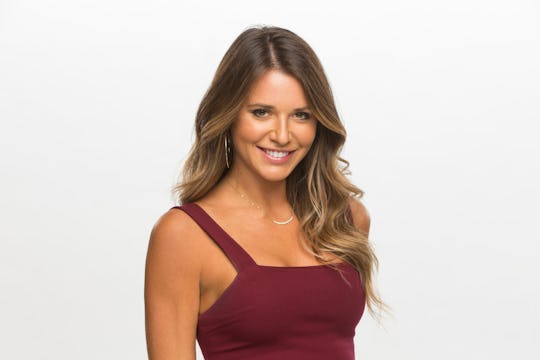 Sonja Flemming/CBS
Angela Rummans Is Bringing Her Athletic Skills To 'Big Brother'
There are certainly a lot of interesting people entering the Big Brother house for its twentieth season, each looking to do whatever it takes to win the $500,000 prize. One especially competitive contestant is Angela Rummans, who credits her athletic skills and her career with fostering her fervor to succeed. But what does Angela Rummans from Big Brother do for a living?
According to her official bio on the CBS website, Angela is a twenty-six-year-old fitness model from California, though she grew up in South Carolina. Fitness modeling isn't her only job, but there's no denying she's all about athletics. Angela cites beach volleyball and spearfishing among her favorite activities, but her love for a good workout doesn't end there. As a fun fact, she offered two sporty tidbits: back in high school she tried out for the football team, and she also loves to disguise just how fit she is on dates so she can later crush her partners in a game.
Angela also appreciates past Big Brother contestants who shared her interests. She listed Rachel Reilly as her favorite former cast mate because Angela loved "how physical she was on the show." She also saw a lot of herself in Rachel, including a fitness-motivated competitive edge that may end up helping Angela in the house.
"Not to toot my own horn, but I'm kind of a freak athlete and I LOVE to compete," Angela said in her bio. "I'm a fierce competitor and nothing brings me more joy than beating men at sports." It's not just Angela's appreciation for all things athletic that will boost her chances. Her strategy is to upend people's expectations. In her bio, Angela noted that people often underestimate her because they see her as "just a sweet Southern belle and brainless model," but she plans to use that to her advantage. As Angela said:
But what you don't see is that I was a professional track-and-field athlete, trained at the Olympic training center with the Olympic team, and am the most headstrong, iron-willed competitor. I'm also intelligent and run my own business with my assistant's help.
Though Angela is a fitness model now, she was formerly a professional pole vaulter in 2014. That was an interest that seems to have begun in high school, where she won the USATF Region 3 Junior Olympic Track & Field Championships. She also qualified for 2010 USA Junior National Championships and placed ninth at the New Balance Nationals.
Now Angela has managed to turn her interests into a different kind of job. She's appeared in the catalog Athleta and seems to be represented by Caroline Gleason Management; she's featured on the agency's website in a variety of swimsuits and athletic gear. As for her business, Angela founded Paper'd Moments back in 2011 when, per the company's website, she was in need of "a creative outlet while she was training for the Olympics as a professional pole vaulter."
Paper'd Moments is currently taking a break, presumably while Angela partakes in Big Brother, but normally they create personalized, handmade paper art, which is then matted and framed. According to Angela, "For me, there's nothing more fulfilling then creating handmade art bringing joy to my customers while commemorating their special moments."
Though Angela tried her hand at being a professional athlete with pole vaulting, now it looks like her business and her modeling are her top priorities. Having a few different skills on her resumé can only aid in her success in the Big Brother house. Angela is playing to win, and she certainly sounds like she'll be a fierce competitor.