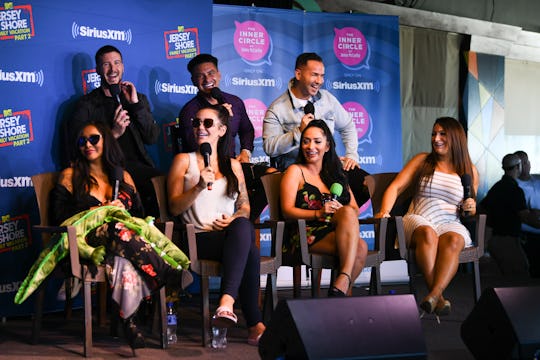 Dave Kotinsky/Getty Images Entertainment/Getty Images
Rumors Are Flying About Angelina & Vinny On 'Jersey Shore'
A lot of time has passed between Jersey Shore and its Family Vacation revival, but sometimes it feels like not much has changed. Angelina Pivarnick and Vinny Guadagnino bicker just as much as ever, but history might have repeated itself in other ways with a second rumored hookup between the two. Could their post-show relationship provide any clarity about their onscreen shenanigans? What does Angelina think of Vinny after Jersey Shore: Family Vacation?
Though Angelina hasn't offered a full statement on the status of her friendship with Vinny, social media makes it seem like they're on good terms. In early October 2018, she posted a picture of herself with Vinny and Ronnie Ortiz-Magro with two emojis: a heart and the pair of uplifted, celebratory hands. While emojis might not be the most reliable or clear-cut indicators of feelings, Angelina's choices do seem positive.
However, Angelina might be somewhat less thrilled with the rumors flying around that she and Vinny hooked up again. Pauly DelVecchio is the one who told Ok! Magazine that it was a possibility, though he didn't say it had definitively happened, only that he would believe it if it did. Angelina didn't comment directly, but an anonymous source told HollywoodLife that she wasn't thrilled with what Pauly had to say.
According to HollywoodLife, a source close to Angelina had this to say about the speculation over her and Vinny:
Angelina is furious that Pauly D is fueling rumors that she hooked up with Vinny. So much time has passed since Angelina slept with Vinny and she looks at him like a brother now. There is absolutely no sexual tension between them and she's so angry that Pauly would even put her engagement at risk like that. Angelina loves [fiancé Chris Larangeira] with all her heart and she would never do anything to risk that.
Angelina may view Vinny as a brother, but the familial sentiment might not be returned. During a radio interview with 94.5 PST, Vinny said the cast was a "real family" with a group chat where they checked in with each other daily. "Everyone except for Angelina," he specified. "Angelina's not allowed."
When discussing Angelina's continued tension with Jenni Farley with Us Weekly, Vinny noted that he was not Angelina's biggest fan. "She's not my cup of tea," he said. "She thinks I'm in love with her." Both instances could have been jokes intended to play up the fact that Angelina isn't a core part of the crew, which has been a running bit since the earliest days of Jersey Shore. But it's also possible that Vinny just isn't very close with Angelina, especially since they don't always get along when the cameras are rolling.
Angelina seems to have fond feelings for her cast mates, and that includes Vinny. Though there might be some friction between her and the other housemates from time to time, at the end of the day they manage to stay friendly enough that Angelina is usually invited on vacation again.