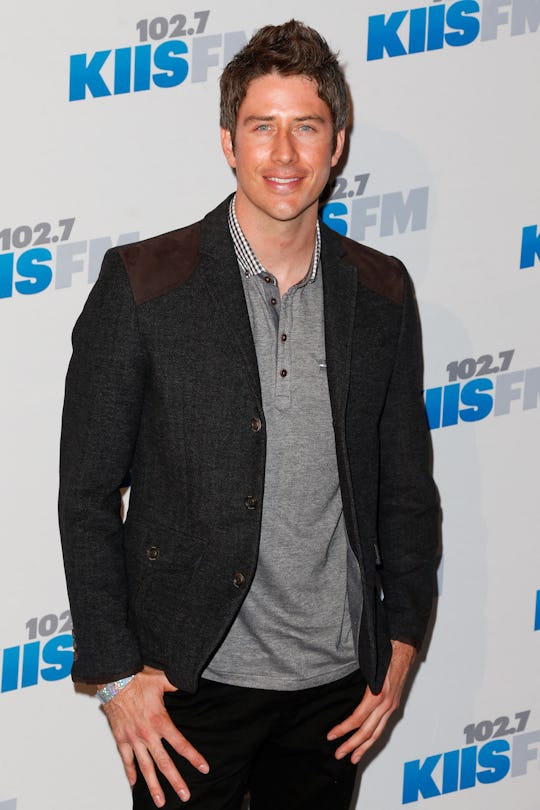 Imeh Akpanudosen/Getty Images Entertainment/Getty Images
Arie Seems To Think Becca's 'Bachelorette' Season Is All Thanks To Him
With Becca Kufrin's turn as the Bachelorette finally upon us, fans who watched her journey unfold on The Bachelor last year may be wondering: what does Arie think of Becca's Bachelorette season? (And to those fans, some other fans might say: who cares?!) But Arie has an unsurprisingly tone-deaf take on the whole thing. According to a recent profile in GQ following him and new fiancée Lauren B., Arie actually seems to think he's to thank for Becca becoming the Bachelorette.
In the profile, writer Rebecca Nelson, who spent two days in Scottsdale, AZ with Arie and Lauren as they house-shopped, writes:
"Everyone makes me out to be the bad guy for filming it," [Arie] says of the breakup. But if he hadn't, he argues, Becca would have had to face uncomfortable questions about why they broke up on the show's after-finale special, After the Final Rose. Besides, he says, she wouldn't have been the next Bachelorette (which was announced the night of the finale), because "people wouldn't be able to cope with the fact that she just got broken up with on television."
So, he argues, why aren't more people thanking him? "I think if you look back at it now, it was positive for everyone. Everyone ended up getting closure and also an opportunity to be with the person that they were really meant to be with" — he with Lauren, and Becca with one of the twenty-odd suitors who will be vying for her affections come May 28. "I don't understand why I'm the fall guy for filming the breakup on a television show which we all signed up to be on."
As we all know by now, Arie ended his season of The Bachelor by proposing to Becca, choosing to leave the quieter and more difficult to read Lauren behind. Then, about two months later, Arie had a change of heart. He asked Becca's permission to call Lauren (after DMing her on Instagram), and, during that phone call, he essentially received confirmation that Lauren would get back together with him if he asked. During what was supposed to be a romantic weekend with Becca captured on camera, Arie decided to dump her with cameras rolling, which producers chose to air in one excruciating, unedited, 40-minute-long scene.
In the profile, Arie details how production led him to believe that this was the best way to handle the breakup, because it would be kindest to Becca for America to see relationship's demise firsthand, instead of drawing their own inferences from it, had it gone down off-camera. Of course, we now know that plan epically backfired, whether intentionally on the part of production or not. Fans actually found the stunt to be extremely cruel and criticized Arie, the show, and ABC roundly for it.
It's true that it would have been a tougher sell from a narrative standpoint for production to announce Becca as the Bachelorette on the night of the finale if Arie and Becca had waited to reveal the breakup until then. But Bachelorettes aren't always announced during the finale. Some are announced while The Bachelor's seasons are still on (see: Rachel Lindsay) and some are announced after the finales have aired (see: Nick Viall). If Becca was production's choice for Bachelorette, then she was going to be the Bachelorette. She likely wouldn't have been announced during After the Final Rose, but she would have been announced eventually. Arie taking credit for Becca becoming the Bachelorette is like your ex standing up at your wedding to say that all of this was possible because he had the good sense to dump you so you could be with your true love. Like, okay, sure, but also, read the room, dude.