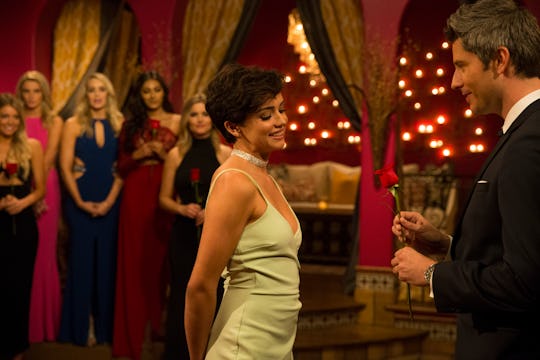 Paul Hebert/ABC
Arie Has Spoken Out About The Age Difference On 'The Bachelor'
A debate about the significance of age differences on The Bachelor has begun after audiences learned that contestant Bekah Martinez is 22 years old. Though she isn't the youngest contestant in series history, she is the youngest in the season and there is a 14-year gap between her and Bachelor Arie Luyendyk Jr. The other women in the house are going to weigh in, as will viewers on social media, but what does Arie think of the age difference on The Bachelor?
According to Us Weekly, the age difference issue will play a big part in Arie's season of the show. One anonymous source from The Bachelor indelicately claimed that it's "the younger women versus the older women" this year, and promotional material has played up the conflict. Previews for upcoming episodes made it seem like Bekah was uncertain about revealing her age to Arie, and that the other contestants would also have a problem with how young she was. Audience members have noted that Bekah's age wasn't listed on her ABC bio and it wasn't displayed on screen during her confessionals like it was with other contestants. It seemed like everything was being set up for her age to be an issue this season.
But it might not be, based on what Arie has had to say.
According to Us Weekly, Arie shared his thoughts on the matter during a press call before the premiere. "I've dated younger, I've dated older, so yeah, that's something that definitely I think plays a theme throughout the season, but it's more about being ready, that's the most important part, being ready to get married," he said. That same anonymous source indicated that age was less of a concern for Arie than the women having careers and specific goals. The source said, "These are women who are looking for a real life and a real husband. These are all established women. He wants somebody that he can talk to that feels like a real soulmate."
Arie reiterated his stance when speaking with The Hollywood Reporter, repeating that it was about the maturity of the person and their desire to settle down as opposed to their age. "Some women are far beyond their years and some women are very immature in their thirties," he said, again stating that he has dated both older and younger before. Later he added, "It's more about being ready. I was open to a variety, and that's something that the producers knew." Yet it's interesting that no one in that "variety" is his age or older.
It seems clear that age differences are not an issue for Arie and that he seems to be basing his decision more on shared goals. However, as both Arie and the source explained, this will be a continuing topic of discussion throughout the season. That makes sense, because it's been pointed out that a lot of the contestants (not just Bekah) are on the younger side of the spectrum this year. At the very least there is a notable gap between many of the women, none of whom are older than 33, and Arie, who is 36.
There's a good chance that the promos for the season are playing up what might be an easily-resolved issue; it wouldn't be the first time that happened. Even if age does become an problem in the house, it doesn't appear to be a problem for Arie. Still, it is an important conversation to have because it could have an impact on the development of Arie's relationship with any of the women who are younger than he is. Even if it doesn't prove to be a deal-breaker, it should be discussed.
Check out Romper's new video series, Romper's Doula Diaries:
Watch full episodes of Romper's Doula Diaries on Facebook Watch.