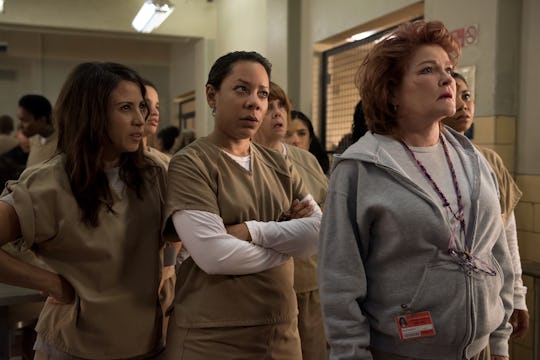 JoJo Whilden/Netflix
What Does Attica Mean On 'Orange Is The New Black'? The Prisoners' Chant May Be A Spoiler
(Warning: This post contains spoilers from Orange Is the New Black Season 4.) In the final moments of Orange Is the New Black Season 4, we see the prisoners just beginning to riot. After a long spell of inhumane treatment by undertrained and PTSD-suffering military veteran guards, the inmates of Litchfield organize a peaceful protest, standing on the cafeteria tables in a mockery of one guard's earlier punishment of Blanca. But in the ensuing deescalation, Poussey gets killed when C.O. Bayley accidentally crushes her in a restraint position. The subsequent and violent uprising has the prisoners chanting "Attica" as they storm the prison, but what does Attica mean on Orange Is the New Black? The answer could be a huge Season 5 spoiler.
"Attica" refers to the real-life 1971 Attica Prison Riot at the Attica Correctional Facility in upstate New York. Though it starts off by accident, the women of Litchfield wind up invoking a historic riot as they become inspired to collectively march, take guards hostage, and begin destroying the prison. The Attica riot began when the inmates of that facility demanded improved prison conditions and more humane prisoner rights. In fact, it was one of the watershed moments of the Prisoner's Rights Movement. About half of the prison's 2200 inmates incited a hostile takeover of the prison in a riot that eventually took 42 staff members hostage, seized control of the campus, and ultimately turned it into a makeshift fort. After four days of negotiations, the prisoners got 28 of their demands met, with the notable exception of amnesty from prosecution for starting the riot in the first place.
The New York governor at the time was Nelson Rockefeller, who refused to go to the prison and meet with the inmates during the riot, citing safety concerns. He had no problem, however, sending state police in to recover the prison by force. They wound up dropping tear gas on the prison grounds from above and then opening fire into the smoke for two full minutes until the rioters were subdued. In the end, 33 inmates and 10 correctional officers died.
The parallels here are eery. Litchfield is also in Upstate New York, and its riot is also the result of inhumane treatment. Though we end the season just as the uprising is beginning, the horrific details of the Attica Riot gives us plenty of hints as to what might follow. Orange Is the New Black has always hewed very closely to the real life controversies, problems, and complexities of the prison industrial complex and America's mass incarceration problem. We saw just how close to home they're willing to hit with Poussey's Black Lives Matter movement-inspired death that lifts details from the Eric Garner case and other police brutality cases like it. It would be right in line with how OITNB facilitates storytelling to closely replicate the details of the Attica Prison Riot.