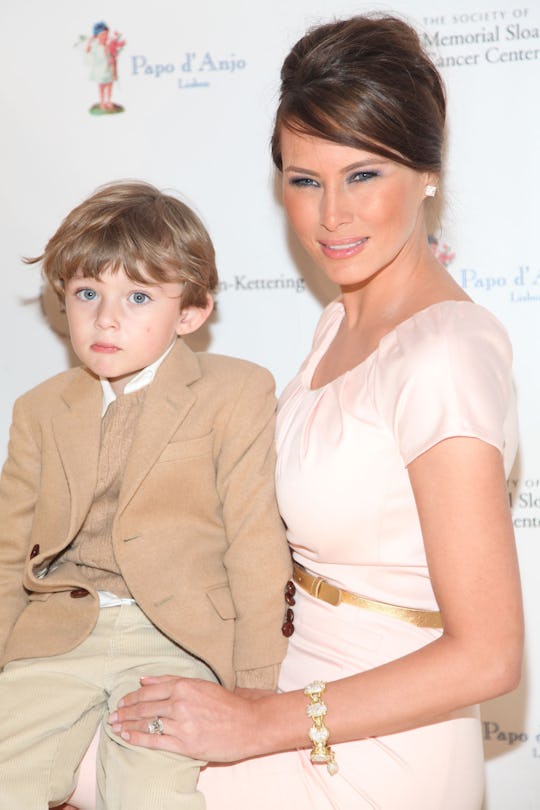 Astrid Stawiarz/Getty Images Entertainment/Getty Images
What Does Barron Trump Think of His Dad Running for President? He Hasn't Given Interviews
As America gets to know Donald Trump attention has turned towards the youngest member of the millionaire's brood. Ten-year-old Barron Trump rarely makes public appearances. Always sharply dressed, Donald and Melania's only son, has been mostly sheltered from the campaign trail. So its no surprise America is wondering what Barron Trump thinks of his dad running for president.
Little is known about Donald Trump's youngest son. Melania has repeatedly stated that Barron is her priority during the campaign season. That's meant shielding him from much of the media scrutiny she's endured.
Barron has barely uttered a word publicly during his father's run for President. In fact, when Trump invited Barron to say a few words during his campaign stop in Myrtle Beach in November, Melania quickly took over the microphone instead.
While Barron has never publicly commented on his father's campaign, the youngest heir to the Trump fortune wants to follow in his footsteps. According to Melania, he prefers suits to sweatpants and even puts on a tie to look more like his dad.
"He is a very strong-minded, very special, smart boy. He is independent and opinionated and knows exactly what he wants. Sometimes I call him little Donald. He is a mixture of us in looks, but his personality is why I call him little Donald," she told Parenting magazine.
It is clear Barron looks up to his successful father. "He likes the way he talks, the way he is," Melania said "They have beautiful respect and admiration for each other."
Like his dad, Barron is also a fan of luxury. Melania told ABC News two years ago that her son lives on his own floor in Trump Tower and slathers on his mother's caviar cream every night before bed.
Barron's absence on the campaign trail doesn't mean he'll be silent forever. All of Trump's children are expected to speak at the upcoming Republican convention, according to Politico.
We're looking at those delegations that may be on the margins and making sure we've got people there," a source told Politico. "And there are no more effective people to carry Trump's message than his children."
His kids's speeches will give Trump, best known for his rough insults and bombastic style, a chance to show undecided voters his softer side. While Trump's older children are expected to comment on policy and national security, the youngest member of the family will likely talk about his father.
It looks like the world will have to wait until then to hear exactly what Barron thinks about his dad's presidential run.