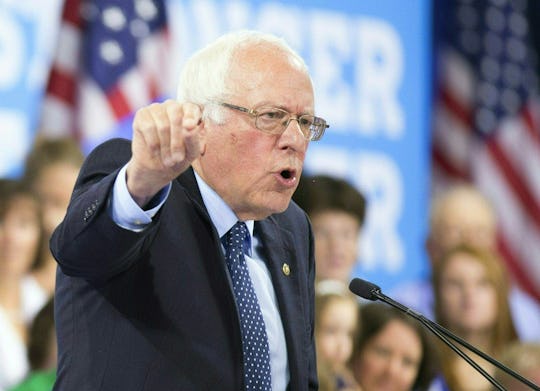 AFP/AFP/Getty Images
What Does Bernie Think Of Debbie Wasserman Schultz's Resignation?
On Sunday afternoon, Democratic National Committee chairwoman Debbie Wasserman Schultz announced that she'd be stepping down from her role as soon as the Democratic National Convention ends on July 28. Considering that Vermont Sen. Bernie Sanders called for her to do exactly that not once, but twice, many are wondering how Sanders has responded to Wasserman Schultz's resignation. Judging by a statement released on his website Sunday evening, Sanders hasn't changed his mind about Wasserman's ability to lead the Democratic party.
"Debbie Wasserman Schultz has made the right decision for the future of the Democratic Party," Sanders said in the statement. He continued:
While she deserves thanks for her years of service, the party now needs new leadership that will open the doors of the party and welcome in working people and young people. The party leadership must also always remain impartial in the presidential nominating process, something which did not occur in the 2016 race.
Sanders also tweeted that last sentence of his statement a second time, underscoring its importance — and reiterating his view that the DNC failed to remain impartial during the 2016 primaries. This isn't the first time Sanders has alleged that the DNC favored Clinton in the Democratic primaries, but his statements carried far more weight with the public after the DNC emails leaked on Friday.
Only two days before Wasserman announced her resignation, Wikileaks published nearly 20,000 emails stolen from DNC servers. The emails — sent between January 2015 and May 2016 — contained several exchanges that added fire to Sanders supporters' claims that the DNC had supported Clinton while suppressing Sanders' growing campaign.
In one email, DNC chief financial officer Brad Marshall asked other DNC staff to "get someone to ask his belief," pointing out that Sanders' possible stance as an atheist could "make several points difference" in West Virginia and Kentucky. Another email, written after the DNC received criticism for a server glitch that allowed Sanders' campaign to access Clinton's voter data, asked "if there's a good Bernie narrative for a story, which is that Bernie never ever had his act together, that his campaign was a mess."
A third email, sent to the DNC by a Clinton campaign attorney, advised the committee on how to respond to a Clinton-Sanders dispute about state party fundraisers. Marc E. Elias wrote: "Just as the RNC pushes back directly on Trump over 'rigged system,' the DNC should push back DIRECTLY at Sanders."
After the email leaks emerged, Sanders didn't mince words. He told ABC, "I think [Wasserman] should resign, period."
Now that the chairwoman has done so, Sanders seems pleased that she "made the right decision." However, he's also made it clear that, above all, he has the American people's best interests in mind — meaning a Clinton presidency, at this stage of the game, is better than a Trump presidency. "Right now what we have got to focus on as Democrats is defeating perhaps the worst Republican candidate that I have seen in my lifetime," he told NBC on Sunday. "So my job right now is to see that Donald Trump is defeated, Hillary Clinton is elected."
With Wasserman's resignation behind him, it seems Sanders will be working on precisely that in the months to come.