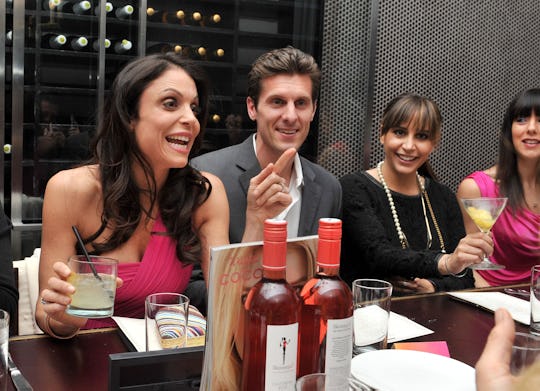 Henry S. Dziekan III/Getty Images Entertainment/Getty Images
What Does Bethenny Frankel's Ex-Husband Think Of 'Real Housewives'? He's Remained Quiet
The relationship between Real Housewives of New York star and low-cal drink mogul Bethenny Frankel and pharmaceutical sales executive Jason Hoppy is the rare one that has played out almost entirely on reality television. Audiences saw them fall for each other, saw Bethenny realize she was pregnant, and even watched them get married and start their family. Their relationship spawned a spinoff of the main Housewives series, Bethenny Ever After, but it ended not long after it began. Their contentious divorce has come up a few times on RHONY since Bethenny returned as a full time cast member, but Jason himself has been absent. So, what does Jason Hoppy think of Real Housewives of New York?
A least part of Jason and Bethenny's problems seemed to be a fundamental difference of personality: Bethenny was a larger-than-life figure who was used to being in the public eye and Jason was a pretty normal guy who seemed to not love all the attention. The details about their divorce that have slipped out paint a less than pleasant picture of their relationship, and definitely make it seem like Jason was not nearly as chill as he seemed. However, most of those details don't come from Jason himself. He has not spoken publicly about Bethenny or the show, and he has no social media presence either. The most public Jason has been since the divorce is the occasional paparazzi shot of him picking up his daughter from school. You've got to give him credit for keeping himself (and his daughter) out of the spotlight as much as possible.
It seems like Jason has returned to the life he had prior to his brief flirtation with fame as the husband of a Housewife. He still works in pharmaceuticals, and if he has moved on to a new relationship, then this time the public doesn't know anything about it. Any hint of his personal feelings about Bethenny or RHONY come from Bethenny herself, or Jason's lawyer Bernard Clair. In court, Clair told the judge that, "Bethenny Frankel's priority is Bethenny Frankel. In pursuit of career success, she has used the child as a prop."
If nothing else, that could make it seem like Jason's side isn't thrilled with Bethenny's continued public presence.
Bethenny hasn't featured her daughter on any of her shows since the divorce, and it's possible that is because of Jason. (Or she just wants her daughter to live a normal life, in which case, that's great.) In RHONY's Season 7 reunion, Bethenny explained that she was legally prevented from saying certain things about the divorce, which was when friend and fellow Housewife Carole Radziwill jumped in to say she had often seen firsthand how Bethenny was struggling. Carole said that she had seen Bethenny try to call her daughter when Bryn was with Jason and been unable to talk to her because Jason wouldn't answer the phone.
It's hard to get the full picture with half the people involved keeping quiet, so until Jason decides to speak up (if he ever does), it's anyone's guess just how he feels about the show and Bethenny's continued involvement with it. Guesses are it's not great.