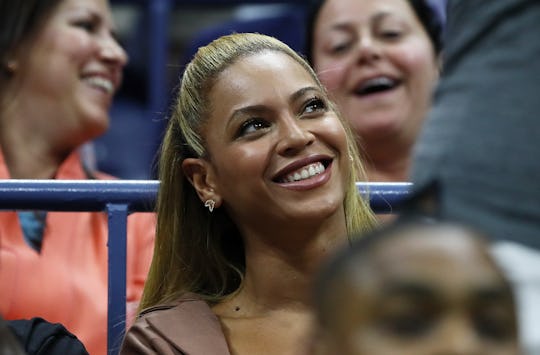 Al Bello/Getty Images Sport/Getty Images
The Meaning Behind Beyoncé's Blue Lingerie
In case you are somehow not aware, Beyoncé gave birth to twins recently. Sir Carter and Rumi were debuted to the world early Friday morning, thanks to a photo the singer posted on her own Instagram featuring herself with her newborns. Already, people are scrutinizing every aspect of the photo — right down to Beyoncé's choice of clothing. For instance: What does Beyoncé's blue underwear mean in the twins photo? There are a few different theories.
According to Elle, right around 1:10 a.m. on Friday on the east coast, Beyoncé posted the first official photo of the twins released to the public, and, in true Beyoncé style, it's certainly something to behold. Featuring a backdrop of flowers, and Beyoncé herself wearing what looks like a soft blue veil, the photo also shows the twins and their mother wrapped in sort of gauzy, blue and pink shawl. It brings to mind Beyoncé's pregnancy announcement photo, also posted to her Instagram account, back in February, which featured a similar aesthetic.
According to NPR, as of 6:45 a.m. ET, the photo had already passed the 4.5 million like mark on the social media site. So clearly, the current queen of pop music is doing something right with these announcements.
The photo was captioned simply, and read, "Sir Carter and Rumi 1 month today. 🙏🏽❤️👨🏽👩🏽👧🏽👶🏾👶🏾". And that's led to all sorts of confusion too, since it was unclear whether their names were Rumi and Sir Carter or Sir Carter Carter and Rumi Carter. I mean, you can't say Beyoncé doesn't get people talking, am I right?
However, Beyoncé's mother, Tina Knowles, also posted the photo to Instagram on Friday morning, and captioned it, "So Happy my baby shared a photo of her babies with the world ❤️❤️❤️proud grandma hello Sir Carter and Rumi Carter❤️🙏🏾❤️ Boy and girl what a blessing ❤️". So that clears up any questions about their names and the sexes of the babies — for now.
But speaking of getting people talking, that outfit Beyoncé has on has fans speculating about whether there are hidden clues in the get-up or not. Every other photo of Beyoncé during this pregnancy has seemed to be picked apart, so is it any surprise that the first photo of the twins released to the public is no different?
In particular, people are wondering about the blue underwear Beyoncé has on in the photo. Is it a symbol of The Illuminati, as some especially interesting fans have speculated she's a member of the Illuminati in the past? Or is it indeed a symbol, but of something a little less fantastic than that theory would suggest?
Maybe it was just meant to match with the shawl Beyoncé has herself and the twins wrapped in in the photo. Or, if the twins were both boys, it could symbolize their gender, although Tina Knowles' post confirmed the fact that one of the twins is a boy and the other is a girl, so it'd be a little sad for the girl if it's supposed to symbolize something like that.
Did Beyoncé just want to keep to a similar theme as the one in her pregnancy announcement photo, where she was also wearing blue underwear as part of the outfit? Albeit a different pair, it appeared.
Or maybe Beyoncé is just wearing that pair of underwear in the photo because they're comfy and she just gave birth to twins a month ago. Could you blame her if that was the case?
Maybe the underwear Beyoncé has on in the photo she posted to Instagram is full of intrigue and meaning. Or maybe it means nothing at all. The fact is, it doesn't really matter, and the only way we'd know for sure whether it has some hidden meaning would be if Beyoncé told us it did. And even then, she could play it up. If nothing else, Beyoncé knows how to perform for the Beyhive, and the photo is just another example of how savvy she is at it.