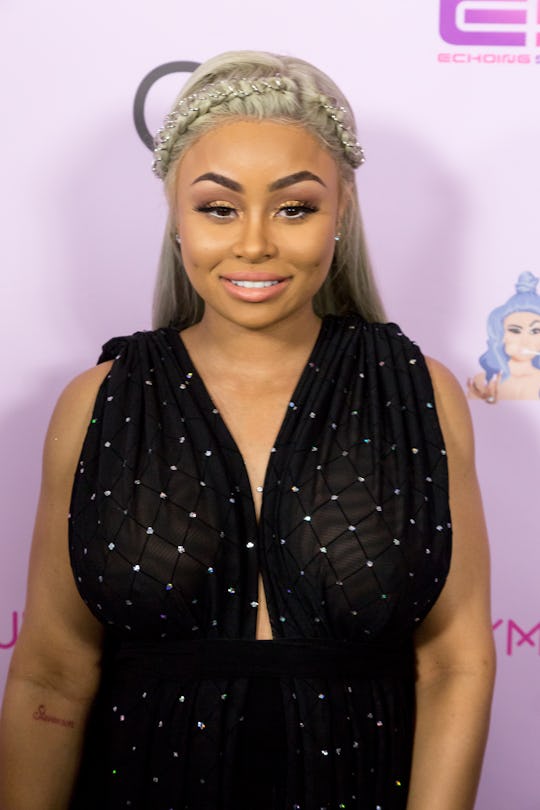 Greg Doherty/Getty Images Entertainment/Getty Images
What Does Blac Chyna's Mom Think Of Her Pregnancy? She's Excited To Be A 'Glamma'
Blac Chyna surprised most everyone earlier this month when she announced that she was pregnant with Rob Kardashian's child. But what does Blac Chyna's mom think of her pregnancy? Turns out she's all about grandma duty with Kris Jenner.
Tokyo Toni, Blac Chyna's mom, took to Instagram on Wednesday to tell Jenner that she was going to be a great "glamma." And she does have a point — if anyone can do grandmother-hood well, it's definitely Kris Jenner and Tokyo Toni. Then all of those good vibes seemed to go out the window as she changed her tune to chastise any commenters who might have something nasty to say about her daughter or her new family. "Clears throat -----Ps For you haters 'Bitch I lead by example' So if you mad about me congratulating my grandchild's grandmother to [sic] bad!!!" she wrote. "Then she added, "Checkmate!! YOU LOSE!"
Well, at least she's got the Kardashian - Jenner's backs, right? This is Blac Chyna's second child, so her mom is an old hat at grandma duty. Chyna had her first child, King Cairo, who's 3 years old, with rapper Tyga. Since Chyna's arrest in February, Tyga, who dated Kylie Jenner for some time, has been seeking sole custody of their son.
In fact, since Chyna's announcement that she and Rob Kardashian are expecting another child, Tyga has been photographed spending more and more time with his son. But it doesn't seem all that contentious (and who would want to get on Glamma Toni's bad side?). Last week, Tyga commented on an Instagram photo of Blac Chyna, as an emoji, showing off a baby bump. "Congratulations," he wrote, with the little streamer emoji.
That seems legitimately feeling good about the news. After her engagement announcement, he was all well wishes too, though he did reference their custody struggles. "Everybody deserves 2 be happy," he wrote on his Twitter account. "What some1 does for their happiness is not my concern, as long as it's not interfering wit my happiness."
He continued,
It makes me happy to see the mother of my son happy. My only concern in this situation is my son. I want him in happy environments. He's innocent in this & I want him to feel as much love as possible.
Kris Jenner, the other Glamma, has also said that's happy for Rob and Blac Chyna and is "thrilled" about the addition to the family, according to Us Weekly, even though there have been reports that she and Chyna don't always get along.
Looks like it's time for the two to work on that relationship — Blac Chyna's mom is all about this family thing already, and it'd be best if everyone got on board.