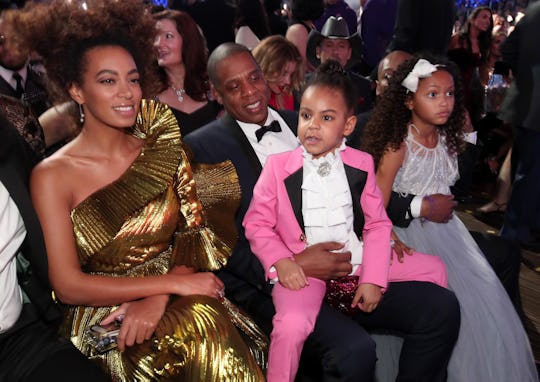 Christopher Polk/Getty Images Entertainment/Getty Images
What Does Blue Ivy Say In Her '4:44' Freestyle?
It seems like musical talent runs in the Carter family. Late Thursday night, JAY-Z released his album on iTunes and Apple Music, along with a bonus track that features Blue Ivy freestyling. What does Blue Ivy say in her 4:44 freestyle? We have to remember that she's only 5 years old, so not all of it makes sense, but some of the lines are pretty incredible.
According to Rap Up, the bonus song featuring Blue Ivy is called "Blue's Freestyle/We Family." On it, Blue Ivy can be heard rapping for an entire 45 seconds, which is amazing in itself. Her full set of decipherable freestyled lyrics are listed blow:
Everything everything this my only single thing / Everything I hear is my answer / And if you think I say, then [?] / I never hear that, I be in the posse / Never seen a ceiling in my whole life / Everything I seen, everything is rotten / Never sit in silence [?] Carter / Innocent we seek them / I and say we see them / [?] / Boom shakalaka / Boom shakalaka / Boom shakalaka / Boom shakalaka / Everything in shaka / Everything in faka / Everything in shaka / Everything in faka
This hip-hop princess is no stranger to appearing in her parents' songs. She made her musical debut JAY-Z's 2012 song, "Glory" and can also be heard in Beyoncé's 2014 track, "Blue." It does appear, however, that this is her first freestyling session recorded on a track.
In addition to an adorably fierce freestyle debut by Blue Ivy, the album 4:44 touches on aspects of family life, both past and present. "Adnis," the second bonus track, addresses JAY-Z's father and dives into how he raised Hov and what the star's upbringing was like.
The third bonus track, "ManyFacedGod," features James Blunt and can be considered the Lemonade response the world has been waiting for. It references the Carters' "On the Run" tour, as well as Beyoncé's forgiveness of JAY-Z's unfaithfulness. This particular track also includes a reference to a quote by the Persian poet Rumi, providing more reason to speculate that JAY-Z and Beyoncé's new twins are named Rumi and Sir. Rumors have been circulating that the Carter's were inspired to name the twins after this poet, who uses the title "Sir" within his poetry.
While it may not be the most lyrically advanced of the tracks included in 4:44, "Blue's Freestyle/We Family" keeps with the familial themes found throughout the album and showcases the talent that follows through the Carter bloodstream — even in the family's littlest members. I can't be the only one hoping that Blue Ivy sticks with her singing. Give us a solo album soon, please?