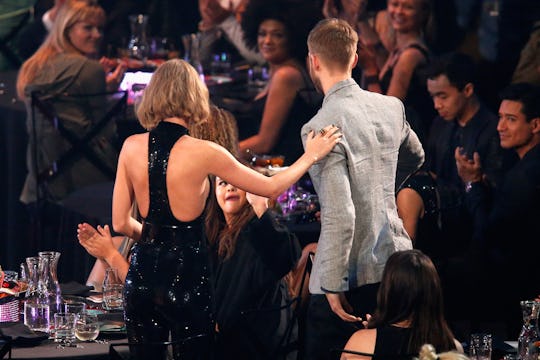 Rich Polk/Getty Images Entertainment/Getty Images
What Does Calvin Harris Think Of Taylor Swift & Tom Hiddleston Dating?
Just a few weeks ago, everyone was talking about what a cute couple Calvin Harris and Taylor Swift made. (After all, he and Tey-Tey made it more than a year — which is Swift's longest relationship.) But then came the sad news: Swift and Harris had split. However, while most fans assumed their story would end there, it seems their breakup was the beginning of a more controversial tale, because, less than two weeks later, Swift was seen making out with English actor Tom Hiddleston. But what does Calvin Harris think of Taylor Swift and Tom Hiddleston dating? To say he is shocked and hurt would be an understatement. In fact, according to Hollywood Life and a source close to Harris, Harris is "disappointed" in Swift for choosing to move on so fast:
Calvin wanted nothing more than to have no controversy with their breakup, and that is why he originally stated when they broke up that love was still there...[n]ow these pictures have come out [of Swift smooching Hiddleston] he instantly went back to the Met Gala moment in his mind, he has lots of questions and is disappointed in Taylor. It goes against everything he thought she would do. It puts her in a bad light in his mind, he doesn't like how this is all turning out.
But what was the Met Gala moment? Well, on May 2, Swift and Hiddleston were filmed dancing together to T.I.'s "Bring 'Em Out.," according to the Daily Mail. While the video was initially viewed as innocuous — just two friends having fun — many, including Harris, are now wondering if this was beginning of the Swift-Hiddleston relationship.
However, when Hiddleston spoke with the Press Association, just after the video went viral, The Avenger's actor assured fans nothing was going on:
I haven't actually danced for a long time, but I happened to be dancing at the Met Gala because it was a party. I was on a table with Taylor Swift and The Weeknd was playing and she said, 'The thing about these parties is nobody gets up to dance' and you're making music. She, as a musician, was like, 'We've got to dance for The Weeknd' so we got up and danced.
The said, nothing is official — at least not yet — and while Romper has reached out to both Swift and Hiddleston for comment, neither have responded.