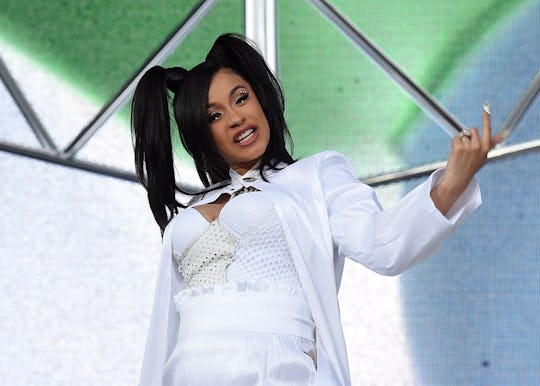 Kevin Winter/Getty Images Entertainment/Getty Images
Cardi B's Baby's Middle Name Is An Adorable Tribute To One Important Family Member
After fans waited with baited breath for months, the day has arrived: Cardi B has given birth to a healthy baby girl and is, officially, a new mom. According to TMZ, the Grammy award-winning rapper gave birth to a girl, named Kulture Kiari Cephus, on Tuesday in a hospital in Atlanta and with her husband, rapper Offset, by her side. Her daughter's name is unique, to be sure, which is arguably why more than a few fans of Cardi B are wondering, "What does Cardi B's baby's middle name mean?" Turns out, it's a subtle and adorable tribute to one very important man in both the new mom and little girl's lives.
The new mom confirmed the birth of her daughter, and her beautifully original name, via Instagram. In a stunning post, featuring the "Bodak Yellow" rapper naked and cradling her baby bump in her arms, Cardi B let the world know her baby's name and official birthdate, writing the caption, "Kulture Kiari Cephus 07/10/18 🎀🌸 @offsetyrn." And the middle name, Kiari, is actually the baby girl's father's "real" name. Yes, Offset's real name is Kiari, which makes his daughter's middle name a tribute to her dad and one of three members of the rap group Migos.
Offset's full name is Kiari Kendrell Cephus, and, like his daughter, he has a first and middle name that both start with "K." Cardi B did give her daughter Offset's last name, too, which is notable but, of course, not anything out of the ordinary, especially since the couple secretly wed in September of last year.
While Kulture is Cardi B's first child, Offset has three other children from previous relationships, according to The Sun. He has two sons, Jordan and Kody, and another daughter, Kalea Marie. So while Kulture's birth is Cardi B's first taste of brand new parenthood, Offset has been around the block and, as a seasoned dad, probably knows a thing or two about taking care of newborns and functioning on a ridiculously small amount of sleep.
His past relationships have been reportedly tumultuous, though, and according to The Sun. The mother of his 8-year-old son, Jordan, sued the rapper for child support in 2017. The mother of his 3-year-old son Kody, Oriel Jamie, did offer her congratulations to Offset and Cardi B following the news of the couple's engagement. His older daughter, Kalea Marie, also has a rapper for a mom, Shya L'Amour.
Little else is known about baby Kulture, including her birth weight, height, and what she looks like, and given the couple's previous secrecy surrounding Cardi B's pregnancy and the couple's marriage, that's to be expected.
We do know, however, that the couple plans to build a house in Atlanta, Georgia and raise baby Kulture there. During an interview with GQ Magazine, and while discussing the couple's plans to exchange some vows during a celebratory wedding ceremony in Atlanta, Georgia, Cardi B said:
[Offset]'s never comfortable in New York. He loves down south. He told me to move in with him, in Atlanta. I stayed in his house a couple of times, but it's so hard to live there. He decided, though, that we're going to build a house in Atlanta, and that's the house that we're gonna raise our kids in. But my job is in New York, always, so I can barely spend time in Atlanta.
So not only does baby Kulture have her father's name as her middle name, but it looks like she's going to be raised in the place her father feels the most comfortable. Congratulations to the happy couple on their new addition!