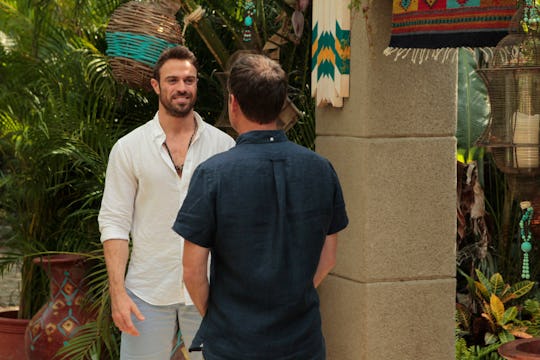 Rick Rowell/ABC
What Does Chad Think About 'Bachelor In Paradise'? He Was On His Worst Behavior
Chad entered Bachelor in Paradise like the tropical storm everyone was expecting to upgrade to a hurricane the moment an alcohol front came through. And — spoiler alert — he totally did. Although he did manage to light an early spark with Lace, after spending a couple of hours together, she grew weary of his "playful" (read: misogynistic) name-calling and roughhousing. Daniel patiently explained to him that he was freaking out the other cast members, and he went into full Chad-bear mode, antagonizing the group with weird threats. So what does Chad think about Bachelor in Paradise? Well, he's since publicly apologized for his behavior, but that might not really be enough to redeem him.
After he continued to call Lace some bleeped out expletives in front of the group, Sarah Herron finally called Chad out for his blatant misogyny (prompting a burst of applause from Carly). He snapped back, "F*ck that one-armed bitch," which clearly did not go over well with the group. Sarah managed to keep her cool and calmly said she'd leave the show if Chad didn't.
"Keep sucking that fame d*ick," Chad replied, which prompted a walk-out from the whole group, leaving Chad by himself poolside. His best bro Daniel tried to reason with him, explaining that he was behaving like a tool, but Chad only got more belligerent and defensive.
Sarah ended up in tears in a cutaway interview, saying that she had come on the show to make a sincere effort at finding a relationship, and she didn't want to be there with guys like Chad around demeaning the women. Needless to say, Chad was not feeling contrite the next morning.
"The only person who should be offended was, you know, Army McArmenson," he said with a harsh laugh. It didn't take long for Chris Harrison to intervene, especially once we learned that Chad had been acting aggressively towards the staff of the hotel, too. He was ultimately asked to leave, but not before lobbing one final "f*ck you* at Chris.
As the episode was airing, Chad posted an apology to Sarah on Twitter.
He expounded on his non-apology in an interview with E!, saying:
"I think I did make a couple of jokes about Sarah, and I do feel bad about that. I didn't think that I did, I thought didn't do anything…I do feel genuinely bad about some of the things I might have said. It may sound funny to some people with a horrible sense of humor, but I should have kept them on the inside."
Which is like...not the point. But okay. He also claims to have smoothed things over with Chris Harrison during taping of the "Men Tell All" special of JoJo's season of The Bachelorette.
"I was mad at Chris Harrison, I was mad at him. I already talked to Chris, so we're cool now," he said. "He knew I was upset, he knew what was going on at the time. We talked, and I was just genuinely like, 'Hey, I'm sorry, man. Obviously, I was upset.'"
In the end, Chad wound up blaming his behavior on everyone but himself — from bizarrely blaming Lace for getting him kicked off the show (which she had nothing to do with), to blaming the cast for being too sensitive to his "jokes," to blaming Chris for luring him back onto the franchise just to make him look like a villain again. Sadly, it just doesn't look like The Chad will ever learn his lesson.