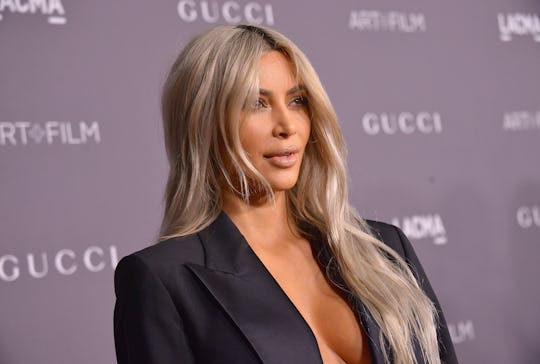 Charley Gallay/Getty Images Entertainment/Getty Images
Fans Think This Might Be The Meaning Behind Chicago, Kim Kardashian's Daughter's Name
Keeping Up with the Kardashians fans, get ready to debate the latest Kardashian baby name. Kim Kardashian unveiled her third daughter's name on Friday, and it looks like North and Saint will be growing up alongside their youngest sister, Chicago West. Kardashian didn't post an explanation for the name, which has led many fans to wonder: we all know it's the "Windy City" in Illinois, but what does Chicago mean personally for Kim and Kanye West?
Kardashian announced the name on her website just a few days after she shared her baby's birth news, with few other details included. "Chicago West," Friday's post read. "January 15, 2018. 12:47am. 7lbs 6oz."
While Kardashian didn't expand on the name's meaning in her announcement, it's not too hard to fathom a guess at the name's background for the couple. Though West was born in Atlanta, Georgia, he moved to Chicago as a child and grew up there. (In fact, plans started in late November to turn West's childhood home in Chicago into a community arts center, according to Exclaim.) Naming one of his children Chicago would probably be one of the most unique ways West could honor his hometown and South Shore background.
An unnamed source reportedly confirmed the hometown meaning of the name to E! News on Friday. "Kanye came up with the name and Kim loved it the significance behind the name," the source reportedly told E! News. Another unnamed source told E! News that West wanted to honor both his hometown and his mom, whom he was close to and who died in 2007.
In a follow-up post on Twitter, Kardashian shared their daughter's new nickname, as well, writing a simple, "North, Saint & Chi." (If you're as confused about the pronunciation of "Chi" as I was, sister Khloé Kardashian was quick to clear up any uncertainties, tweeting: "I LOOOOOOOOOOVE her name. Hey Chi (shy)."
Baby Chi's name definitely falls into the category of unique celebrity baby names, considering Baby Center data shows that only four babies out of every million born in the United States in 2015 were named Chicago. (The name seems to have peaked in 1996, when 23 out every 1 million babies was named Chicago. Something tells me, though, that the number of babies named Chicago in 2017 will mysteriously and suddenly eclipse that number.)
At the moment, there's been no confirmation of the baby name's meaning, but on Twitter, fans were quick to point out the West hometown association on Twitter when debating the name:
Before the couple welcomed Chicago into the world via surrogate on Monday, Kardashian had discussed baby names on The Ellen Degeneres Show. "We don't have a name," she said at the time, according to E! News. She continued:
At the baby shower, I was like, 'I don't want to play any baby games, measuring the belly—none of that will work for this time around. I just want everyone to write a name on a little tile and see if there's something that sticks.'
Kardashian also shared that big sister North wanted her incoming sister to be called "Star," but that her parents weren't quite as keen on the name. "I do like different names—but short, easy to spell, one syllable," Kardashian said on The Ellen Degeneres Show, according to People. "That's kind of my vibe."
That explains the cute "Chi" nickname, at least. And while people have had varied opinions on the youngest Kardashian baby's name, something tells me the public will get used to it — just like they did with North (also known adorably as "Nori") and Saint when they were born.
Another cute detail? Considering that West has referenced his love for Chicago in quite a few of his songs, his youngest daughter will grow up with a wealth of songs that give Chicago — both the city and herself — a small hat tip. Because as the lyrics to West's "Homecoming" go, "In my heart is where she'll always be." Just like baby Chi. How sweet is that?
Check out Romper's new video series, Romper's Doula Diaries:
Watch full episodes of Romper's Doula Diaries on Facebook Watch.