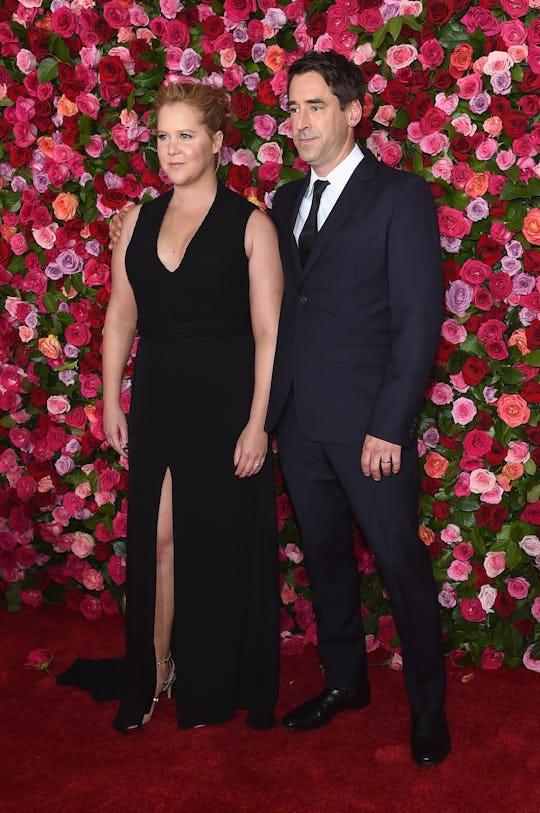 Jamie McCarthy/Getty Images Entertainment/Getty Images
What Does Chris Fischer Do For A Living? He's Well-Known In His Field
If you haven't already heard the latest celebrity buzz, then allow me to clue you in: Amy Schumer is pregnant with her first child! On Monday, Oct. 22. the world learned the funny actress and her husband, Chris Fischer, are expecting a baby. Naturally, fans and celebrity news enthusiasts alike want to know all about the couple and their impending parenthood. Those who aren't too familiar with Schumer's husband of eight months might also be wondering: What does Chris Fischer do for a living?
Schumer and Fischer's baby news dropped Monday afternoon with a pair of quirky Instagram announcements — with one coming from Fischer's friend, Jessica Yellin of News Not Noise, People reported. "I wanted to share some news from our community, maybe it's noise but it's happy noise," Yellin explained via Instagram Stories. "So I'm not in the business of making voting recommendations, but these are the recommendations of Amy Schumer, one of the most consistent and earliest supporters of News Not Noise. Now read all the way to the bottom, you'll see there's some news down there. Congratulations, Amy." At the very bottom of Schumer's list of recommended political candidates, it read: "I'm pregnant-Amy Schumer."
Schumer posted her own quirky teaser on Instagram — featuring her head and Fischer's head edited onto Prince Harry and Meghan Markle's bodies. She captioned the hilarious picture with, "About to announce some exciting news on @jessicayellin insta page. Please follow her for up to the minute #newsnotnoise she breaks down what's really going on. She agreed to post a lil noise today for me! Follow her and VOTE!!"
Because of her success as an actress and comedian, Amy Schumer is practically a household name. But Chris Fischer? Not so much. However, he's actually accomplished a lot — and is very well-known — in his own realm of expertise: cooking. According to Elle, Fischer is an award-winning cookbook author and a chef with some serious street cred. Fischer published The Beetlejuice Farm Cookbook: A Year of Cooking on Martha's Vineyard. back in June 2015, according to the publication, and the book ultimately won a James Beard Award in 2016. "The best part of writing a cookbook is being able to test all the recipes! I was able to basically cook and eat all day long, and best of all, call it 'work,'" he told MV Times.
Before his successful cookbook, the dad-to-be worked through the bulk of his 20s as a sous chef at Mario Batali's Babbo in New York City, according to Us Weekly. (Yes, the Mario Batali — B&B Hospitality has since "separated" from Batali, Nation's Restaurant News reported.) He also spent time cooking at Ruth Rogers' River Cafe in London and has worked at Alice Waters' Sustainable Food Project in Rome, according to BU Today. From 2013 to 2015, Fischer worked at a restaurant near his family's farm in Martha's Vineyard. By the time 2016 rolled around, he was a chef and as a part-time instructor at Boston University's Metropolitan College Programs in Food & Wine, according to Hollywood Life.
Although it's hard to say in what way Fischer is currently using his culinary talents, it's probably a safe bet that he's in a kitchen somewhere cooking up something fantastic. And I have to say, it must be nice being married to a chef while pregnant — because food cravings — unless Schumer is having a lot of food aversions, or becomes nauseated over strong smells coming from the kitchen of course. If that's the case, then having a chef husband might be highly unfortunate for Schumer presently.
Regardless of his current employment situation (and Schumer's potential pregnancy symptoms), I wish the parents-to-be the best as they begin this new journey in life together. A couple of things are for sure, as far as their little one is concerned: they're bound to have both a sophisticated palette and a wicked sense of humor with Amy Schumer and Chris Fischer as parents.