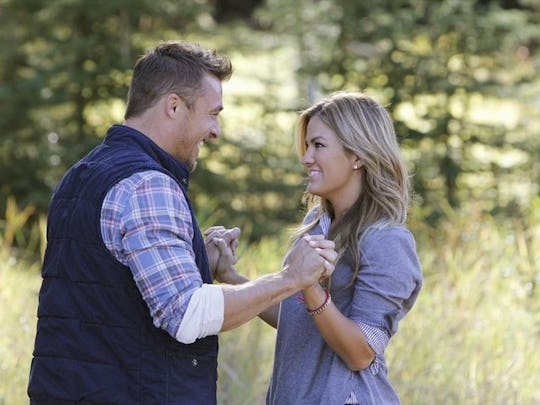 Richard Carlson/ABC
What Does Chris Soules Think of Becca on 'The Bachelor'? It's "Weird" For Him
Bachelor/Bachelorette fans know that the franchise likes to recycle cast members who didn't win their first time around. This season's bachelor is recent bachelorette Kaitlyn Bristowe's runner up, Ben Higgins, as is usually the case with the stars. And Ben's going to be picking from some familiar faces: Amber James and Becca Tilley, both former contestants who vied for the love of Chris Soules and didn't win. What does Chris Soules think of Becca's Bachelor reappearance? It's a little uncomfortable for him, especially given that he split with Whitney Bischoff.
Amber was eliminated early on in Chris' season, and Chris eventually chose Whitney as his "fiancée" before the pair called it quits after two months, according to Us Weekly. But Becca made it all the way to the end, eventually being sent home because she was unable to tell Chris, a relative stranger, that she loved him, according to Hollywood Life. Understandable! According to Wet Paint, The Bachelor takes just six weeks to film, and I'd argue that anyone who thinks they love someone after only knowing them for a little over a month (and watching them date dozens of other people at the same time) is probably... well, I don't want to judge. Let's just say I'm with Becca on this one.
But just because they weren't in love doesn't mean they didn't have any feelings for each other; a source told Hollywood Life that Becca declined to appear on Bachelor in Paradise because she was still interested in Chris. She must have gotten over it, though, because now she's back and hoping to find "like" with Ben, someone she's clearly been interested in for quite some time — she tweeted about him back in August.
So how does Chris feel about being replaced? He's not saying much. He appeared on this season's premiere of The Bachelor, and it does look like he's watching: on Monday night, he tweeted during the show, making a joke about Olivia's gaping mouth, and calling Amanda "sweet." But he didn't mention Becca at all. In fact, the only time he's talked about her lately was when he appeared on Jimmy Kimmel: Live following the season premiere. When Kimmel asked Soules if seeing Becca on the show was weird for him, he replied that it was "a little weird," and joked that he must've not been enough for her. Could he be feeling rejected? Possibly, but he's not saying. Fans will just have to keep their eyes glued to his Twitter to see if he comes clean.
Images: Richard Carlson/ABC; Giphy