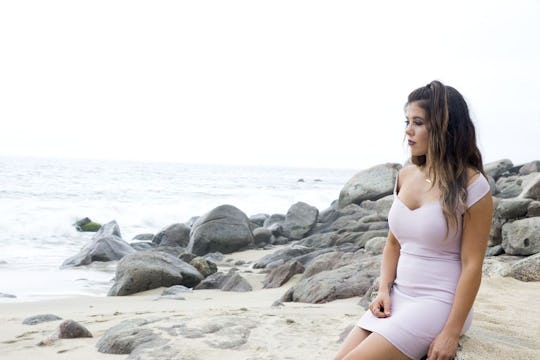 Paul Hebert/ABC
A Guy Will Come Between Christen & Jasmine On 'Paradise'
Some people really do find love on Bachelor in Paradise. Other people make lifelong friends. And sometimes, people make enemies. So I've just got to know; what does Christen think of Jasmine on Bachelor in Paradise? So far, she hasn't said anything (publicly) about her fellow-Paradise-inhabitant, but I'm just going to go ahead and speculate anyway. Because based on everything they're about to go through, it's easy to see there's definitely going to be some tension between the two of them.
In case you, like me, were wondering who Christen actually is, she was a contestant on Nick Viall's season of The Bachelor, where she didn't make an incredibly memorable impression. But she's headed to Paradise on Monday's episode where she will presumably make a splash by butting heads with Jasmine. Christen would like all of you to know that she is a virgin, and she has decided to ask Matt out on a date, even though he and Jasmine had been flirting recently. If the promos for the episode are to be believed, this is all going to result in a very dramatic Jasmine marching down the beach and telling producers "You want good TV, ABC? I'm about to show you good TV." Oh goody. Jasmine has appeared in a few interviews talking about the show, but Christen hasn't said a word yet.
Lately, Christen's Twitter has been mostly Bachelorette commentary, heart emojis, and adoring comments about Evan Bass and Carly Waddell's recent Paradise nuptials. Most likely because the episode hasn't aired yet, Christen can't reveal any specifics about what happened, or mention her upcoming feud with Jasmine. She hasn't even officially appeared on the show yet. However, her Instagram is rife with shots of her and fellow Bachelor alums. But Jasmine only appears in one group shot that looks like it was taken at some sort of promotional event (I am speculating wildly here, just so you know). I'm going to take this as evidence that Christen does not like Jasmine. I guess.
Jasmine, of course, has been a little more forthcoming. In an interview with E News she was asked about Matt and her iconic-before-it-was-even-aired line. Jasmine answered only that she doesn't appreciate when she feels like someone has maybe gone behind her back and betrayed her. Though our girl couched her words with all kinds of hedging, it's still pretty clear that drama is about to go down. In case you were wondering, I am, indeed, here for it.