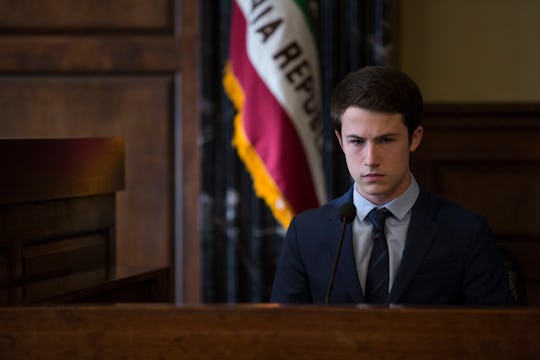 Beth Dubber/Netflix
Clay's Semicolon Tattoo On '13 Reasons Why' Serves An Important Purpose
Warning: minor spoilers ahead for Episode 1! In the first episode of the second season of 13 Reasons Why, Clay and Skye finally answer the question everyone has had since this show began: how are these teenagers able to get so many tattoos? (Seriously, though: who's footing the bill for all that ink?) With a fake I.D. in hand, Clay settles in to get a semicolon tattoo. But what does Clay's semicolon tattoo mean on 13 Reasons Why?
There are a few different explanations for his tattoo, both literal and metaphorical. Skye encouraged the tattoo to help Clay find closure after the events of Season 1; they agreed that it would be a good way for him to put the past behind him. The tattoo commemorates Hannah while also serving a more figurative purpose: semicolons indicate a pause in a sentence more firmly than a comma but not quite as definitively as a period. It represents that Clay is moving on but not forgetting; he's starting the second half of the sentence without fully disconnecting from the first.
However, it's important to note that Clay doesn't actually end up completing the design. He passes out in the middle of the process and leaves with just a comma on his wrist, indicating that the story is actually continuing with barely a skip. But the semicolon also represents something much bigger than the show itself.
Clay's semicolon tattoo also alludes to the Semicolon Project, a nonprofit organization that works to prevent suicide through education and raising awareness. Founded by the late Amy Bleuel in 2013, they seek to equip people with the "right tools," as well as present "hope and love to those who are struggling with depression, suicide addiction and self-injury." When speaking to People in 2015, Bleuel explained why they chose to use a semicolon as their symbol and how it took off as a tattoo:
Supporters just chose to get the tattoos on their own. The project was started by asking others to draw a semicolon on their wrist to show support. The semicolon was chosen because in literature a semicolon is used when an author chooses to not end a sentence. You are the author and the sentence is your life. You are choosing to continue.
The emphasis on the story not ending is a big part of Project Semicolon and something that resonates especially with 13 Reasons Why. Clay has made a point of making sure Hannah's story is heard even though she is not able to continue it herself. The tagline on Project Semicolon's website is "your story is not over," a particularly poignant statement that fits the show and perfectly suits a semicolon.
While Clay wasn't able to go through with his tattoo in Episode 1 (and it doesn't seem as though actor Dylan Minnette has any ink either), several other members of the cast did. Executive producer Selena Gomez got matching semicolon tattoos alongside Tommy Dorfman (who plays Ryan) and Alisha Boe (who plays Jessica). Dorfman shared a picture on his Instagram account, as well as a caption that revealed how much it meant to him personally. He also paid homage to Bleuel, who passed away in 2017. In part, Dorfman wrote:
The ; symbol stands for an end of one thought and a beginning of another. Instead of a period, authors use the semicolon to continue a sentence. For us, it means a beginning of another chapter in life, in lieu of ending your life. I struggled with addiction and depression issues through high school and early college. I reached out and asked for help. At the time, I thought my life was over, I thought I'd never live past the age of 21. Today I'm grateful to be alive, in this new chapter of life in recovery, standing with my colleagues and friends, making art that helps other people.
Around the same time, actor Brandon Flynn (Justin) also got a semicolon tattoo, in blue as a shoutout to Hannah Baker's nail polish color. He described it as "a pledge of love and hope for people who deal with suicidal thoughts, depression, addiction, and self injury."
It's clear the semicolon means quite a lot to both the cast and characters of 13 Reasons Why, as well as countless people across the world.
If you or someone you know are experiencing suicidal thoughts, call 911, or call the National Suicide Prevention Hotline at 1-800-273-8255.