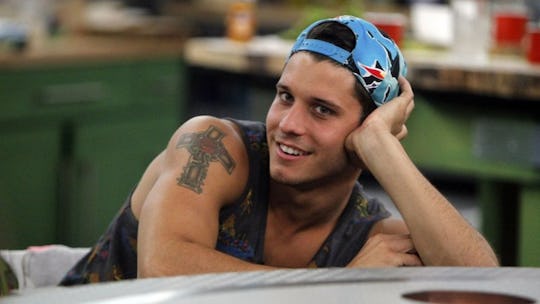 CBS
What Does Cody Calafiore Think Of Paulie On 'Big Brother 18'? He's Rooting His Brother On
On Big Brother 18, we saw the return of four former houseguests and two siblings of previous houseguests — making this season feel like the season for vets. Paulie Calafiore, who's younger brother, Cody, was a houseguest on Big Brother 16, has been doing pretty well for himself this season. He was Head of Household last week and won the Power of Veto competition, and even though he wasn't in the original Eight Pack alliance, he might as well have been. Paulie's been pretty safe in the house thus far (excluding the first week when he was put on the block as a decoy) and it's a wonder what Cody thinks about Paulie's Big Brother gameplay so far.
Cody was super proud of Paulie last week when he won HOH and POV, dominating the house. Overall, Cody has been super supportive of his brother, constantly checking the Big Brother live feeds and live-tweeting the show. Cody even had "Team Paulie" shirts made in honor of Paulie. Even so, there is one thing Cody is definitely not a fan of: Paulie's blossoming showmance with fellow houseguest, Zakiyah Everette.
Cody doesn't believe a showmance can make it all the way to the end of the competition and more than that he's worried that by being involved with Zakiyah, Paulie is putting a target on his (and Zakiyah's) back.
"I'd rather Paulie come home with the money than Zakiyah," Cody said honestly in a video. "Be in love with her after the show. Date her in September."
Although we can see where Cody's coming from, we also can't help but disagree. Paulie and Zakiyah are so cute one can't help but root for them to make it. Plus, although it's obvious to pretty much everyone that they're together they're still not trying to make a big deal about and as of right now they don't have any targets on them. They're both well liked in the house and as long as they keep playing smart they'll be okay.
Still, it's totally understandably that Cody just wants to make sure his brother wins the game. Like he said, only one of them can go away with the $500,000 and as Cody himself knows, sometimes the relationships you make in the house could be the one thing that stands in the way of you winning the grand prize.