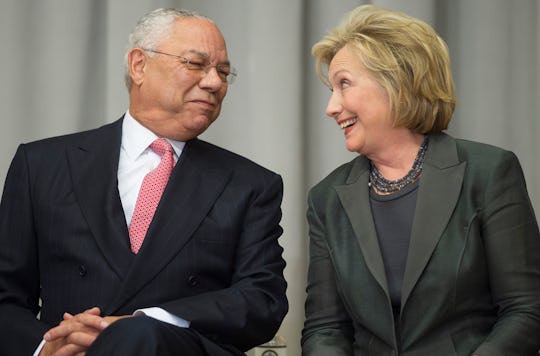 JIM WATSON/AFP/Getty Images
What Does Colin Powell Think Of Hillary Clinton? He'll Be Voting For Her On Nov. 8
Adding to the list of Republicans supporting Democratic presidential nominee Hillary Clinton, fellow former Secretary of State Colin Powell has now thrown his support her way. At the Long Island Association Fall Luncheon on Tuesday, Powell told spokesman Matthew Cohen that he would vote for her based on her leadership skills and her overall experience in comparison to GOP nominee Donald Trump. But what does Colin Powell think of Hillary Clinton? Whereas his personal views of her have been inconsistent, he's ultimately decided that Trump is too toxic a choice for the presidency by comparison.
In the past, Powell and Clinton have clashed over Clinton's use of a private e-mail server. Whereas reports insisted that Clinton's use of the server was encouraged by Powell, he countered, claimed: "Her people are trying to pin it on me." In a series of leaked e-mails, Powell disclosed:
[Clinton] could have killed this two years ago by merely telling everyone honestly what she had done and not tie me into it. I told her staff three times not to try that gambit. I had to throw a mini tantrum at a Hampton's party to get their attention.
Speaking candidly once more, a leaked July 26, 2014 e-mail revealed Powell was not adamantly pro-Clinton, writing: "I would rather not have to vote for her, although she is a friend I respect." This statement was paired with other blunt, personal opinions, including Powell calling her "a 70-year-old person with a long track record, unbridled ambition, [who is] greedy, not transformational, with a husband still d-cking bimbos at home."
Still, Powell can't justify supporting Trump. Paule Pachter, a Long Island Association board member who attended the event, summarized that, in reference to Trump:
He spoke about his inexperience, he spoke about the messages that he's sending out every day to his supporters, which really paints our country in a negative light across the globe with all our allies.
Whereas Powell has had issues with Clinton's character, even saying "everything [Clinton] touches, she kind of screws up with hubris," he believes that Clinton is a better fit for president. As for Trump, Powell has called him a "national disgrace" as well as an "international pariah." Notably, Powell's endorsement of a Democrat despite being a Republican himself is not unprecedented; Powell endorsed President Obama in 2008 and 2012.
Regardless of party lines, though, Powell has chosen the candidate that he believes will best serve as president. And in the end, that's what matters most — for him and Clinton both.