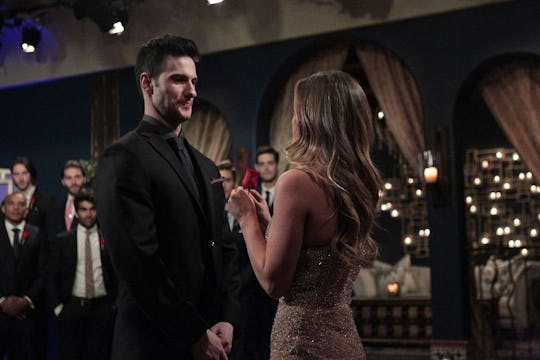 Rick Rowell/ABC
What Does Daniel Do On 'The Bachelorette'? He Is More Than A Professional Canadian
Already, one of The Bachelorette's most memorable contestants is Daniel Maguire, who inexplicably got a rose during the season premiere, in spite of, let's say, enjoying himself so much at the first cocktail party that he stripped off his suit, jumped into the pool, and showed off his very fit, nearly naked body. Twitter was quick to criticize Daniel not only for his catty behavior, and his horrific mansplaining of the "Damn, Daniel" meme, but also for the fact that his profession was listed as "Canadian." So what is Daniel's job on The Bachelorette actually?
In real life, maintaining that body of his is not just a hobby. Daniel works as a personal trainer, male model, and men's physique competitor, as his Instagram full of fitspo-hashtagged shirtless selfies flawlessly illustrates. It's unclear why The Bachelorette's producer opted for a gag job title with Daniel; they already got plenty of laughs for giving Brandon the title "hipster."
And personal trainer seems like a much more legit title than Ali's "bartender" (which, truthfully, considering his vulnerable story about moving to California to do his own thing after growing up in the shadow of his uber-ambitious doctor siblings, should have been something more inspiring-sounding like "Finding Himself"). But, for whatever reason, Professional Canadian is how Bachelor Nation was introduced to Daniel.
Daniel is represented by a couple of modeling agencies in Vancouver and Milan, but he is not just a perfectly symmetrical face set precariously atop a set of washboard abs. He also has a bachelor's degree in psychology. Lesson learned: a cursory understanding of how brains work will not necessarily prevent a dreamboat from behaving like an he did on a first date.
And lest you think his "male model" title is all self-ascribed Instagram fame, it would appear that he actually books real modeling jobs in which he also cannot keep his clothes on, as evidenced by this underwear runway show.
Plus, his modeling seems to offer him the opportunity to travel a ton, so at least he's somewhat worldly. Daniel even appears to have a softer side, peppering his Instagram with a considerable number of fuzzy wildlife pics. Needless to say, there's a lot more to Daniel than his mere Canadian status, but whether or not his joke-splaining is forgivable is up to Bachelor Nation to decide. (Read: it's not.)