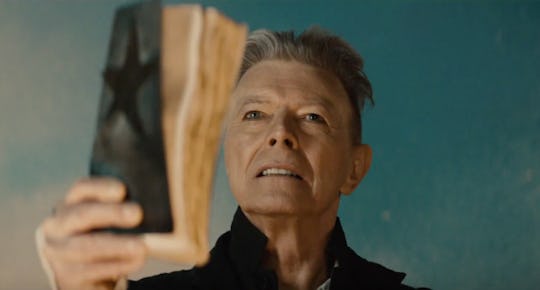 DavidBowieVevo/Youtube
What Does David Bowie's 'Blackstar' Mean? The Singer's Final Album Included A Poignant Hidden Message
With the sudden announcement of David Bowie's death, it is leading many to explore his latest (and last) album, Blackstar in more detail. While many are busy deconstructing the album's third track, "Lazarus", and the music video of the same name, one track that also stands out is the album's title track, "Blackstar." Although in reality it could be interpreted a number of ways, it's pretty clear what Bowie's "Blackstar" lyrics actually mean: It's his way of telling fans he's dying and that no, he does not know what's comes next.
As the album's first track, "Blackstar" is certainly telling fans something following the announcement of Bowie's death from cancer yesterday. Given that Bowie kept his 18-month battle private and that Blackstar was released on Friday — days before his death — it seems clear that this whole album was Bowie's way of saying goodbye. And the 10-minute video for "Blackstar" — which was described as "creepy" by some — certainly supports the idea that Bowie was talking about himself throughout the song.
But inspecting "Blackstar's" lyrics and knowing what has recently become public, it makes it almost undeniable that the track centers on Bowie's own mortality. So, it is not only the video that is chilling. Here's what can be taken from "Blackstar":
Bowie Knew His Death Was Imminent
Stands a solitary candle, ah-ah, ah-ah...
On the day of execution, on the day of execution...
You're a flash in the pan (I'm not a Marvel star)...
Like the video, the song starts out mentioning a lone candle. This is ominous because commonly candles act as a symbol or a reminder of mortality or dwindling time. Given that, the lyric about the day of his execution and flash in the pan — meaning something that is sudden but not repeatable — could be seen as Bowie's way of saying he cannot be recreated.
He Didn't Know What Came After Death
How many times does an angel fall?...
I can't answer why (I'm a Blackstar)...
Bowie told Ellen in a 2004 interview that he was "young, fancy free" and that "Tibetan Buddhism appealed to [him]" at that time. "I thought, 'There's salvation,'" Bowie said. "It didn't really work. Then I went through Nietzsche, Satanism, Christianity… pottery, and ended up singing. It's been a long road."
While Bowie's final views on religion were never really clear, in "Blackstar" Bowie shrouds the entire topic of death in mystery and unknown. While this lyric may highlight the idea of reincarnation or an afterlife, the rest of the song centers on the fact that he doesn't know what comes next.
...But He Does Know Something Happens
Something happened on the day he died...
Spirit rose a metre then stepped aside...
Somebody else took his place, and bravely cried...
One thing's for certain: Bowie knows he'll be gone and that there will be some sort of response. But more importantly, he knows and understands that there will be a void left that will be hard to fill.
... And That His Legacy Is Everlasting
...I'm not a pop star....
(I'm a Blackstar, I'm a star's star, I'm a Blackstar)...
The overall takeaway from this song can be easily missed: That Bowie is more than just a singer. According to The Guardian, the song declares that he's the "Blackstar" and that he is leaving so much more behind than he could have imagined early on. Though he is not immortal, his impressive body of work is.
I can't say I disagree.
Image: DavidBowieVevo/Youtube screengrab (5)