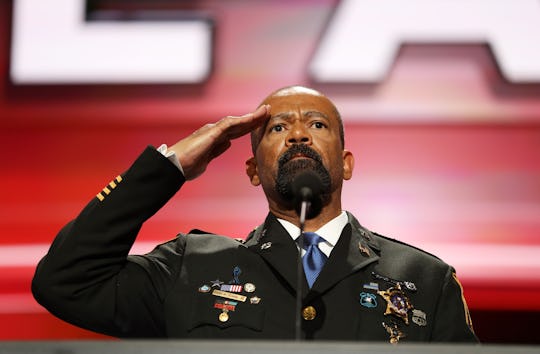 Joe Raedle/Getty Images News/Getty Images
What Does David Clarke Think Of Black Lives Matter? The Sheriff Has A Negative View
At the Republican National Convention of Monday evening, the themes of national security against terrorism and domestic security against violence were both front and center. Not surprisingly, Milwaukee Sheriff David Clarke's speech was highly anticipated, given that three police officers were slain by a gunman over the weekend in Baton Rouge, Louisiana. During his impassioned speech, it became clear what David Clarke thinks of Black Lives Matter: He characterizes it, specifically, as a group that supports anarchy.
Clarke is not a stranger to making controversial statements. The Milwaukee native — who was first elected sheriff by a landslide in 2002 — is known for his outspoken beliefs and somewhat quirky public persona. Though a conservative, he ran for sheriff on a Democratic ticket. He calls himself the "The People's Sheriff," and, according to ThePeoplesSheriff.com, he is "committed to doing all that I can to make citizens safer." This includes protecting citizens from the federal government; Clarke stated during an interview with Fox News political commentator Jeanine Pirro that there might be a "second American Revolution" because the federal government might break into people's homes to take away their firearms.
In addition to being a fervent supporter of the Second Amendment, Clarke is a fanatical critic of the Black Lives Matter movement, a fact which became clear during his speech at the Convention. Clarke told the raucous, cheering Cleveland crowd,
What we witnessed in Ferguson, Baltimore, and Baton Rouge was a collapse of the social order. So many of the actions of the Occupy Movement, and of Black Lives Matter, transcends peaceful protest, and violates the code of conduct that we rely on. I call it anarchy.
This extreme sentiment pretty much aligns with statements that Clarke has previously made about Black Lives Matter. In an extraordinary interview with CNN's Don Lemon this weekend, Clarke told a baffled Lemon that members of Black Lives Matter are "purveyors of hate," that they "teach vile and vitriol in the name of virtue," and that Lemon is part of a larger media narrative that vilifies police officers and incites violence. In response, Lemon said, "if you're accusing me of violence, you can leave... but if you want to have a conversation, I am more than willing to welcome a conversation with you."
In the same interview, Lemon asked Clarke to be specific about instances of the Black Lives Matter movement inciting violence. Clarke didn't respond.
Despite falsely accusing Don Lemon of inciting violence, it was Clarke himself who seemed to incite violence in a Foxs News editorial last week, in which he told "White America" that it needs to "to stand up against this latest attack on the Black community by the likes of Black Lives Matter." The nonsensical tirade asserted that the Black Lives Matter movement is a "domestic hate group" that wants a "bloody resolution" to their protests, though they "cannot admit it in polite society."
As a nation that seems increasingly divided approaches the general election in November, we can only hope that voice like Clarke's — voices that speak falsehoods and promote division —will not continue to be heard.