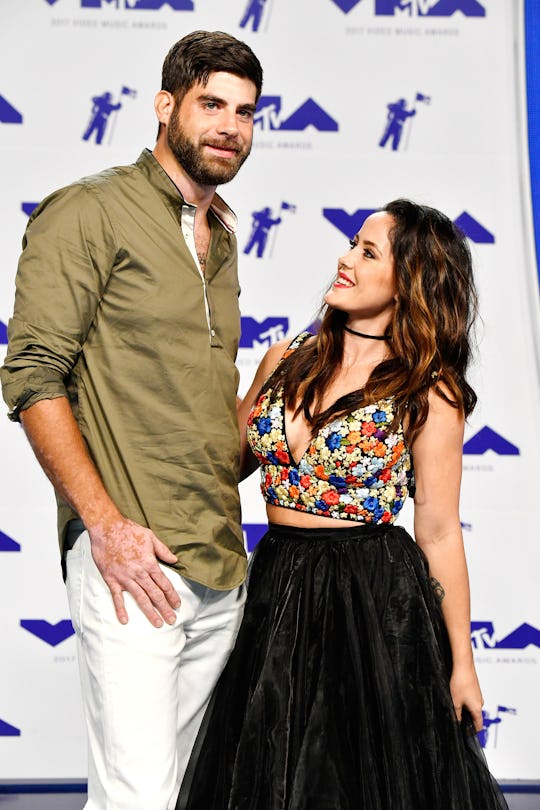 Frazer Harrison/Getty Images Entertainment/Getty Images
What We Know About David Eason's Employment Amid Backlash For Allegedly Shooting Dog
Though you may know her from her stint as one of the OG 16 and Pregnant cast members back when the show premiered over a decade ago, Jenelle Evans is still dealing with some serious family drama today. For those who are following the disturbing reports that Evans' husband killed her dog are likely wondering what's going to happen with him now. And if he's not on the MTV reality show, what does David Eason do for a living?
In an interview with Us Weekly, Evans opened up about how her husband, Eason, shot their family dog, and what life has been like in the aftermath. She claims he allegedly killed the animal in the backyard after it supposedly snapped at their toddler daughter, and that her children have no knowledge of this happening. Romper's requests for comment from Eason and Evans have not yet been returned.
"David and I are not on talking terms," she told the magazine last week. "I'm too hurt and upset at the fact he did that. It's taking time to get over this whole situation, and it's making me feel he's very cruel and doesn't have a heart on many ends." Be that as it is, weeks after the incident occurred and she left with her kids, Evans reportedly returned back home, according to Perez Hilton, likely out of some form of necessity.
This whole situation has likely prompted people to wonder what her husband does for a living, since he hasn't appeared on Teen Mom in some time.
As far as employment goes, The Hollywood Gossip reported that one of the ultimatums Eason allegedly offered Evans to rekindle their relationship was that if she came home, he would get a job, which seems to suggest that he doesn't have one right now and it sounds like he hasn't had one in a some time.
Prior to his relationship with Evans and starred on Teen Mom, however, In Touch Weekly reported that he worked as a "pipe inspector and welder."
Aside from the general horror of having your family pet allegedly killed in your backyard, the incident has had some really serious consequences for Evans, too. According to People, Evans reportedly lost a lot of advertisers after the incident, which likely made up at least part of her income.
However, Eason has argued on Instagram that he did what he did out of defense for his and Evans' daughter, Ensley. Eason claims the dog attacked her, which made him retaliate, according to E! News.
"I don't give a damn what animal bites my baby on the face... whether it be your dog or mine, a dog is a dog and I don't put up with that sh*t at all. I'm all about protecting my family, it is my life's mission," he wrote on Instagram, according to E! News. "Some people are worth killing or dying for and my family means that much to me. You can hate me all you want but this isn't the first time the dog bit Ensley aggressively. The only person that can judge weather or not a animal is a danger to MY CHILD is ME."
Though there's been no further updates on their relationship status nor whether or not they are living together, it's safe to say they are probably taking the next steps of their relationship pretty seriously, and determining what's best for themselves, as well as the kids involved. As for whether or not Eason will be seeking new employment or the family will stay together, it's yet to be seen.