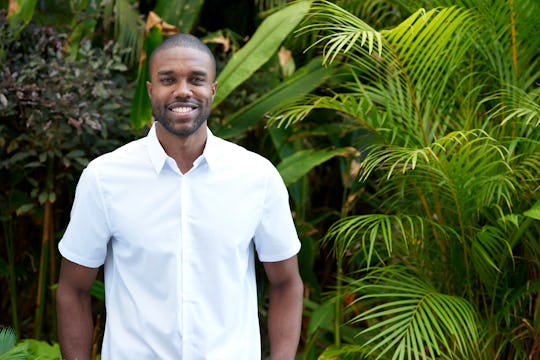 Bob D'Amico/ABC
DeMario Has Spoken Out About His Time On 'Bachelor In Paradise'
Bachelor in Paradise is no doubt the messiest show of the Bachelor franchise, but this year caused turmoil before it even aired. During the first few days of filming, an incident occurred that left DeMario accused of allegedly sexually assaulting a fellow cast member, which caused production to stop. While Warner Brother's investigation concluded that no wrongdoing occurred, the scandal was international news and colored much of the coverage of the show, right down to ABC's trailers for it. So since he didn't return when filming restarted, what does DeMario think about Bachelor in Paradise? A shirt he wore recently is pretty telling.
DeMario was no stranger to drama before the Bachelor in Paradise scandal. While on the latest season of The Bachelorette, his ex-girlfriend showed up to a group date and told Rachel that they were still dating when the show started. While DeMario tried to play it off as if he didn't even know his ex, Rachel saw right through it and sent him home. Given Bachelor in Paradise's history of showcasing controversial contestants, it was easy to assume that he would be a part of this season — sort of like how the dramatic contestant Chad was involved last season (and now on Celebrity Big Brother in the U.K. ...but that's besides the point).
The assault allegations, however, rocked the entire Paradise production. Filming stopped during an investigation, but picked up again when Warner Bros. didn't find evidence of assault. Neither DeMario nor the other cast member involved in the incident returned for filming, and DeMario said he "got played" by the show. "It's every man's biggest fear. No man wants to be attached to that. That ruins you for life," he told E! News. Despite the contention, DeMario said he would return for the reunion show.
But how does DeMario feel about the show now? Well, if a shirt that says, "Show The Tape!!!" is any indication, he wants the footage of the incident to air. He said the same thing in an interview with ET: "I'm glad footage of that day is being shown. I've always stuck to my truth and said, 'roll the tape.'" He continued, "This is a victory for all men who have been falsely accused." According to TMZ, though, Warner Bros. said that they will not show said footage; a glimpse of the incident is in the Bachelor in Paradise Season 4 trailer, but everything DeMario wants to be seen probably won't make it to air. It's clear that DeMario will not like Warner Brother's. decision, and that this is not the last we'll hear from him about the incident.