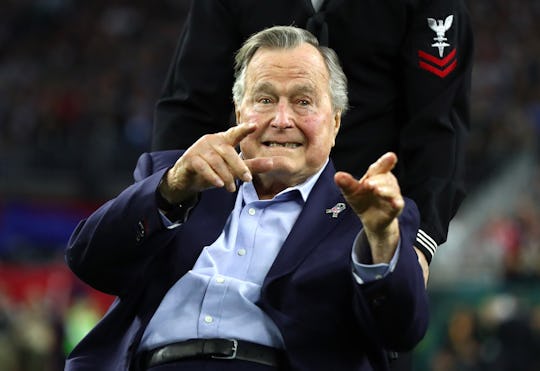 Al Bello/Getty Images Sport/Getty Images
It's Trump Vs. Bush At The Super Bowl
If there is one thing that can bring Americans together, it's football. And Twitter. Which is why trying to figure out what Donald Trump thinks about George and Barbara Bush at the Super Bowl is really hard to do. The newly elected president has a lot of opinions on social media, so it's hard to imagine him keeping his tweeting fingers still while a former president attends the Super Bowl. And yet, he has said nothing. (So far.)
President George H.W. Bush and his wife attended the big game and were all over the stands, waving and keeping up with the crowd, much to everyone's delight. Bush and the former first lady notably missed the inauguration earlier this month because they were sick. Bush, 92, was hospitalized for pneumonia and his wife, Barbara, was also in care for bronchitis.
At the time they were totally indisposed. A spokesperson told the press in a statement,
Following another good night's rest, President and Mrs. Bush have both continued to improve over the past 24 hours. Mrs. Bush could possibly be discharged from Houston Methodist Hospital tomorrow, while President Bush will be remaining in the ICU for observation for a few more days...President Bush is breathing well without any mechanical assistance, his spirits are high, and he is looking forward to getting back to a regular schedule. In fact, he called his office last night at 6:30 p.m. to check in on his staff.
But if you were worried about the Bush family, have no fear: They are alive and well. Though they couldn't make it to the inauguration, they did manage to come out for the most American of all holidays: the Super Bowl. And they were stoked (as anyone would be) to be there.
It was nice to see them show up. Even Chelsea Clinton was happy to see them. The former first daughter tweeted, "So happy to see President George H.W. Bush & Mrs. Bush looking so healthy & strong."
President Trump didn't seem to have an opinion about the Bushes' Super Bowl attendance, but they were there and it was nice for everyone (come on, you know you're out there) to see the former first family out and about and enjoying the Super Bowl. They weren't trying to hide, either, by the way. The former first couple was ALL about hanging out at the big game.
So yes, we all wanted a little Beyoncé dropping in at the halftime show, and maybe less nail-biting on the football side of things. But sometimes it's a compromise.