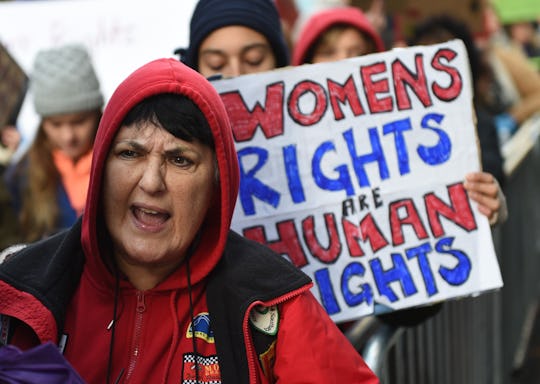 TIMOTHY A. CLARY/AFP/Getty Images
Trump's Silence On Women's March Speaks Volumes
For those of us in denial about Inauguration Day (OK, fine, it's real, and it's happening on Friday), there's that other upcoming event in D.C. that offers a silver lining. The Women's March on Washington, which will take place the day after inauguration, is expected to draw over 200,000 participants from around the country who will unite in a mass demonstration to support women's rights and women's equality. So, what does Donald Trump think of the Women's March, an event that's competing with his own inauguration?
As it turns out, the Women's March is one of those rare topics that President-elect Trump hasn't felt the need to comment on. In the past two weeks alone, the former The Apprentice star has used his Twitter account to espouse his opinion of NBC's Saturday Night Live ("Really bad television!) and Academy Award-winning actress Meryl Streep ("one of the most over-rated actresses in Hollywood"). He has also maligned the career of Civil Rights figure and Georgia Rep. John Lewis ("All talk, talk, talk - no action or results. Sad!") and shared his assessment of an unverified intelligence dossier containing serious allegations regarding Trump ("Totally made up facts by sleazebag political operatives").
Amid all of this public venting, though, Trump has remained mum about the Women's March, which will be one of the largest demonstrations in American political history.
While seeming to ignore the mass protest that will occur the day after Inauguration Day, Trump does have a few things to say about the inauguration itself. Last week, he told a New York Times reporter that "We are going to have an unbelievable, perhaps record-setting turnout for the inauguration, and there will be plenty of movie and entertainment stars." As with many of the real estate magnate's comments, this should be taken with several pounds of salt. According to NBC 4 Washington, NBC's D.C. affiliate, the D.C. Department of Homeland Security and Emergency Management is expecting between 800,000 and 900,000 attendees.
Given that President Obama's Inauguration drew a crowd of 1.8 million, Trump's assertion about breaking records seems implausible. Still, ever a man with a measuring stick, Trump is clearly concerned about the numbers. Indeed, Trump seems to be downright preoccupied with the size of his inauguration. In December, he tweeted about setting a record on Inauguration Day, and again last weekend, he tweeted about the event being "bigger than expected."
As Inauguration Day approaches, it's becoming clearer that the Women's March on Washington will encroach upon Trump's coming out party in more ways than one. According to reports at The Washington Post, march organizers have applied for "at least" 1,200 bus parking permits, while only 200 such bus permits have been sought for the Inauguration. This raw data seems to support the notion that the Women's March will draw as many — if not more — attendees than expected, while the inauguration may attract fewer.
Demonstrators at the Women's March will be protesting Trump's presidency while also supporting a wide array of liberal issues. According to an excellent article about the march at The Miami Herald, "Some will be standing up for what are traditionally labeled women's issues, such as equal pay and paid family leave... but many organizers say the march is not just an anti-Trump protest. It's as much a rallying cry FOR all those people and issues on the other side as it against him, they say."
According to National Park Service (NPS) spokesperson Michael Litterst, the event's permit with the NPS stated that the purpose of the demonstration is "to come together in solidarity to express to the new administration and Congress that women's rights are human rights and our power cannot be ignored."
At present, the president-elect is indeed ignoring the reality of the march. Come this weekend, though, the hundreds of thousands of demonstrators marching on Pennsylvania Avenue will be impossible to ignore.