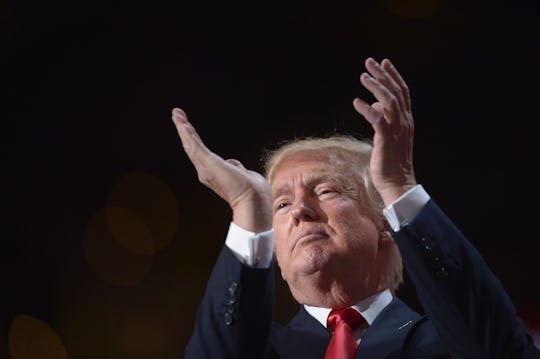 BRENDAN SMIALOWSKI/AFP/Getty Images
What Does Donald Trump Think Of Tim Kaine? Hillary Clinton's Running Mate Will Attract Ire
One week after Donald Trump selected Indiana Gov. Mike Pence as his running mate, Hillary Clinton at last announced Virginia Sen. Tim Kaine would be her running mate for the 2016 election. But, considering how caustic this election has been thus far, one question will inevitably come up: What does Donald Trump think of Kaine?
So far, since Clinton announced her choice, the GOP nominee has remained silent on Pence's other half in the Democratic Party. But, it's a guarantee he won't stay silent for long. After all, this is the same man who said Clinton's legacy is "death, destruction, and weakness" Thursday night at the Republican National Convention.
Especially considering Kaine has already proven to be an attack dog against Trump for Clinton. In an appearance the week before Trump went on the offensive against his fellow nominee, Kaine appeared with Clinton at a campaign event in Annandale, Virginia, and went aggressive against Trump. As Kaine said in mid-July: "I predict after this whole thing is over, what will be remembered about the failed candidacy of Donald Trump is 'You're fired."
At least, Kaine certainly hopes that is the case if his road the White House is clear. As he continued about the competition versus Clinton:
So you want the trash talker? What about the bridge builder? What about the bridge builder who served on the Armed Services Committee and worked to make us strong and worked to respect troops and worked to build up and support military families and worked to build alliances and our nation is better as a result.
But just as he's been aggressively against Trump, Kaine has been aggressively for Clinton. The nominee's vice presidential choice has been a cheerleader for Clinton in recent months, saying we are "ready for Hillary." As he said at the event, seen by many as an audition for the VP role:
We were ready for Hillary because Hillary's ready for us. Hillary's ready for Virginia. Hillary's ready to be president. Hillary's ready to be our leader. Hillary's ready to make history.
And the sentiment is felt in return. As Clinton responded to Kaine after granting hi a hug, "I appreciate so much the leadership that he has shown for this state and now he is doing the same in Congress."
Here's guessing that, once Trump steps in, this sort of warm and fuzzy language will disappear quite quickly.
Update: Trump responded to Kaine's candidacy as vice president alongside Clinton in a series of (predictably) name call-y tweets late Friday:
It's clear that Trump isn't ready to rise above name calling (he referred to Massachusetts Sen. Elizabeth Warren as Pocahontas in the above tweet) and start acting like a real presidential candidate.