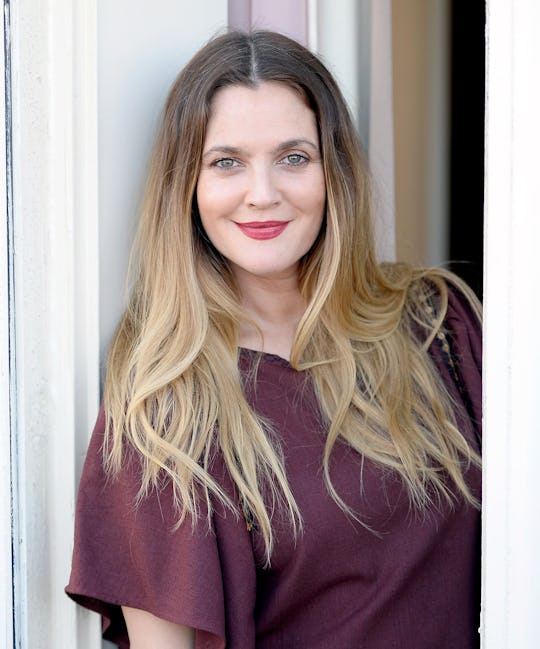 Angela Weiss/Getty Images Entertainment/Getty Images
What Does Drew Barrymore's Olive & Frankie Tattoo Mean? It's A Tribute To Her Girls
If you follow Drew Barrymore on Instagram, then you know that she recently spent some time in a tattoo artist's chair getting some new ink. After teasing a pic of her new in-progress tat on Thursday, Barrymore followed up with a close-up shot, showing the words "Olive & Frankie" handwritten on the inside of her wrist. What does Drew Barrymore's Olive & Frankie tattoo mean? It's a beautifully simple tribute to her daughters' names. According to the Daily Mail, Barrymore and her husband Will Kopelman became parents back in 2012 when their first daughter, Olive, was born, and then had their second daughter, Frankie, in 2014.
Drew Barrymore hasn't shied away from gushing about how much she loves being a mom to her girls, and often talks about motherhood in interviews and on social media. In November, Barrymore spoke to Hello! magazine about stepping back from her acting career while her daughters are young, saying:
I felt that my life started the day my kids were born and everything I had before was something to be used as wisdom and experience for them. It's like life really wasn't as important before they were born but you don't want to have not have existed because it gives you tips along the way.
But even though Barrymore has taken a break from acting, she is still quite a busy mama. In addition to raising her girls, Barrymore also runs a successful film production company, Flower Films, and a makeup and eyewear line, Flower. She even has her own brand of wine, called, uh, Barrymore Wines. Given everything that's on her plate, it's no surprise that she's given a fair bit of thought to the idea of multitasking and "having it all." In an interview for Marie Claire's April issue, Barrymore said,
I really had to tell myself, You can do everything, but you will have to do them at different moments. And you can do a lot in the same moment, but you can't do everything in the same moment. It was a good lesson that you will just have to prioritize and put some things over here for a little while.
So does her love for motherhood mean that another little Barrymore-Kopelman might be in the works? She hasn't ruled it out. When asked about more kids, Barrymore told Us Weekly,
I think I'm good right now, but I don't know. The door's open, but I'm no spring chicken. I have to figure it out sooner or later.
But one thing she is sure of? How much she has changed now that she's a mother:
[I'm always surprised at] how intense of an internal battle it always is. You will never be the same again. So trying to get back to your old self in any way, whether it's like, 'I'm back to work and I'll go back to the person I was at my office!' you're not the same. You're forever changed.
So, so true.