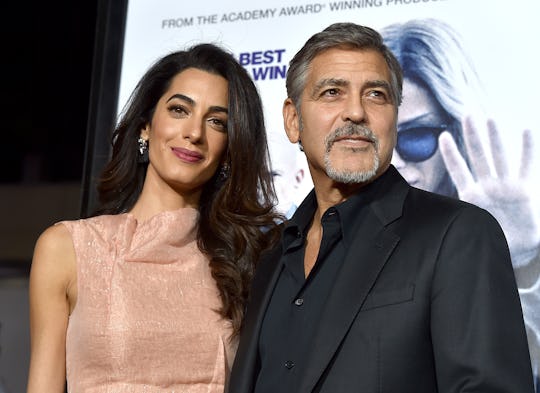 Kevin Winter/Getty Images Entertainment/Getty Images
Amal & George Clooney Name Their Baby Girl "Ella"
The day has finally come! Page Six reported that George Clooney and wife Amal welcomed their twins on Tuesday morning. The happy couple are now parents to a baby girl named Ella and a little boy named Alexander. Many fans are understandably curious about how they chose these beautiful names. So, for instance, what does Ella mean and does it have any special significance in the Clooney family?
Traditionally, the name Ella is a short form of Eleanor and Ellen, meaning "light" and "beautiful fairy woman," according to BabyCenter.com. However, in French and German, the name Ella is translated to mean "all," as SheKnows.com noted.
"People with this name tend to be creative and excellent at expressing themselves. They are drawn to the arts, and often enjoy life immensely," according to SheKnows.com. "They are often the center of attention, and enjoy careers that put them in the limelight. They tend to become involved in many different activities, and are sometimes reckless with both their energies and with money."
Only time will tell if little Ella Clooney lives up to this description. But with parents like hers — a mom who's a highly esteemed human rights attorney and activist, while her dad is an incredibly accomplished actor, Golden Globe winner, and a philanthropist — she'll have plenty of opportunities to be involved in some form of the arts or something she's passionate about while in the public eye.
With the information about both George and Amal's families readily available online, it doesn't appear that any of their close family members bear the name Ella (Eleanor or Ellen, either). Whether the new parents decide to elaborate on how they chose their daughter's name, there's no question that it's a beautifully classic one.
In a statement to People, the Clooneys' rep confirmed that Amal, Ella, and her brother Alexander are "all healthy, happy and doing fine." And the rep jokingly added that "George is sedated and should recover in a few days."
All of the excitement and anticipation for the twins' due date has finally come full circle. And not just for fans: Months before their arrival, the then-dad-to-be said in an interview with Laurent Weil on the French program Rencontres de Cinéma that he and Amal were "really happy and really excited" and added that parenthood was "going to be an adventure."
An adventure — one of the greatest of all — indeed. Congrats to the happy family.